A TRIBUTE
TO THE ORIGINAL LOS ANGELES DAILY NEWS!
A Verse to
You
Articles
and
Essays

A Verse to You Archive

Music Box

The
Rip Post Interview

Quotatious

Music Pages

About RR
RIPOSTE

by RIP RENSE
---
TUESDAY SANDWICH
(Jan. 9, 2013)

When the guy at the Santa Monica Co-Op asks if you want lettuce on your sandwich, itís sort of like asking if you want blue with that sky youíre breathing. I mean, he peels off exactly one green leaf, only moderately wilted, enough to sate an overfed dwarf bunny with a "lap-band," and lays it gingerly on the bread.

Thatís the kind of day it is here, you see. Itís a hereís-your-one-leaf-of-wilted-lettuce-on-the-sandwich-asshole, day. Ah, Rense is nuts, right? Itís 70 degrees in January in L.A.., an unimaginable dream for much of the world! Well, I hate 70 degrees in January in L.A., so there you are. The air is cold, the sun is warm, the flu bug is poised to fell every third jackass ordering a latte inside every stuffy germ-incubating Starbucks. I like clouds once in a while. I like moisture in my sky, along with blue. I don't like cold sweat in my armpits and heat on my face.

And for that matter, I donít like January. Itís like a long speech by a monotone banker. Before the rubber chicken.

"How are you, sir!" the sandwich guy at the Co-op had barked, frightening me.

I tried to be folksy, wound up weird.

"Oh, well, uh, you don't want to know. That would be too much information."

Furtive look from Sandwich Guy. Whoops, don't want to be upsetting. . .

"So I'll just say, fine! And leave it at that."

"Right!" barked Sandwich Guy. "Can't complain, right!"

"No, I could," I said. "I could really, really complain."

Uh-oh, weird instead of folksy again.

"But donít worry! I won't, I won't."

"Right! Good! Doesn't do any good!"

"No!"

I let Mr. Positivity alone to make the sandwich and went looking for cat food that the Unholy Three might not reject in wide-eyed horror.

This all took place because I had just forced myself to get Out of The House after sitting in what could romantically be called "writer's paralysis," but really is nothing but good, old-fashioned depression. I know it's depression because I saw an informercial about it last night. It said that the true test of being depressed was if you answered a few questions with "yes." The first two questions were "Do you feel sad?" and "Do you lack interest in doing things?"

Bingo! (Hell, I'd answer "yes" to those if I won the lottery. And a Pulitzer Prize.)

My first stop, pre-sandwich, had been a lovely park in Santa Monica named after a field of clover. What could possibly go wrong in such a poetic circumstance? I had gone there to do gentle Tai Chi, instead of to the "Y" to do a strenuous workout. I had done a strenuous workout at the ďYĒ the previous day, you see, followed by a nice flu shot from a pharmacist who looked to be about ten-years-old.

"The good thing for you," said the ten-year-old pharmacist, "is that in just a few years, you'll be 65 and Medicare will pay for everything!"

She was being folksy, trying to cheer me up.

"Nah," I said, smiling. "I'll be dead by then."

To her great credit, she found that howlingly funny.

So the thing is, I didn't want to do a strenuous workout on the day right after the flu shot, so as not to encourage my chances of becoming part of the two percent of flu-shot recipients shot down by the flu from the shot itself. I've recently gotten over two months of pneumonia, no thanks to persons claiming to be doctors of medicine, and I'm just a bit skittish about illness right now. Otherwise known as "scared shitless."

"Jaden! Jordan! Joshua! THROW that ball! THAT'S it! YEAH!Ē

Someone was yelling, there in the beatific field of clover. No more intrusive than a police helicopter. I looked around. It was one of those "coach" jerks who thinks he has to bellow like a coked-up drill sergeant, never mind that he's coaching. . .three-year-olds.

Okay, maybe they were four. Maybe.

"JORDAN! TAKE PRIDE IN THAT AYS SHIRT YOU'RE WEARING!"

Except he pronounced it "Jor-dan," as everyone does now, along with "gar-den" and "stu-dent." It's as if the entire American populace is being taught to read and write by the dyslexic kid who used to sit in the back of the class, hiding. Sound it out, now. . .GARRR. . .den!

As for what AYS stands for, I am so pleased I donít know. But the implication was clear enough. Take pride in whatever corporate logo is printed on the clothing you are wearing. After all, you will soon shoulder the heavy responsibility of obeying corporate commands to consume, consume, and consume some more, and you must mentally prepare!

Problem was, this "coach" simply. Would. Not. Stop. Shouting. Was it coffee? Had he just finished viewing "Full Metal Jacket?" Or was he indulging some misguided notion about keeping children's attention focused. . .through terror!

I do not jest, sorry to say: I walked all over the park, and there was absolutely zero Tai Chi-friendly terrain where I could not hear the Jor-daning voice of Drill Sergeant. A hundred and fifty, two hundred yards away, but. . .

"JA-DEN! JOR-DAN! JOSHUA!Ē

I stood and stared. It was really quite astonishing. Such vocal projection! And Coach loomed, striding madly back and forth, much as I imagined Custer might have done. And oh, how the trendy-named little tykes stood close together, wide-eyed, dazzled, a nest of their trendy mommies seated nearby. Maybe "coach" was paid by the word. Maybe one of the kiddies would grow up to be a mass murderer.

I left. Tai Chi Bye Chi.

And thatís when I wound up at the Co-Op, picking up my one leaf of lettuce. Thankfully, nothing occurred to further enhance misanthropia there, well, that is, unless you count the fact that I walked out with one bag of groceries costing ninety dollars. Plus 20 cents for the double-bag. Okay, okay, most of the cost was for "supplements" that I am suckered into buying because I imagine they will help me to fend off germs hiding in that one leaf of moderately wilted lettuce.

And I drove home through the usual ego circus. Silver Mercedes in front of me tailgated a black SUV from red light to red light, as if this somehow might improve something. At last, Mercedes passed SUV on the right, entering a bike lane to do so, and caused SUV to slam on brakes, etc., etc. Yawn.

Because I wanted to have at least one small moment of something resembling pleasure in my day---I know, selfish as hell of me, really---I stopped at a coffee joint called "8 Espresso." In the pantheon of dumbass business names, I'd have to rank it near ďPetals ní (sic) Wax HomeĒ in Marina del Rey. 8 Espresso. What could it mean? The film the rat-pack never made?

Am I the only one who finds it utterly bizarre that a stupid rectangle in a sterile, deathless mini-mall is decorated to look like a "funky coffee house?" With old couches, fat chairs, red velvet curtains, and---Jesus come now---old Beatles and CSN&Y albums strewn about for "atmosphere?"

I ordered a mocha from a nice young woman slightly larger than one of my cats. She had odd glasses, but then, most people do. I looked at the price. It's a tribute to my dogged determination to have a slight bit of pleasure in my day---or rather, to self-pityingly lavish a dose of chocolate on my dying taste buds---that I paid it, anyhow.

"Large or small," she said.

"Small," I replied, noting that this would still cost me enough to make half of Africa gape.

"You said soy milk, right?"

I admitted it. I had.

"We have to charge you fifty cents more for alternative milk."

Really. She said that. "Alternative milk."

"That's okay." (You can have all the contents of my wallet if you'll just give me a goddamned mocha.)

I paced around as I waited. I do this. I pace. It gives me the illusion of doing something while I'm wasting my life. My father was the same way. I looked around. The 8 Espresso crowd was typical enough. Two tight-jean-imprisoned young women typed manically on computers, faces taut, sphincters tight (well, that's a guess), as if they were doing a compare-and-contrast of Nietszche and Schopenhauer. Of course, they were writing e-mail, if you call that writing. Several guys in their 30's and 40's were discussing something involving money and writing. I wanted to warn them that these things were mutually exclusive, but Iíd had my fill of conversation for the day with Mr. Positivity Sandwich. A fat guy about my age sat sunken in one of the fat chairs, typing on a laptop, which was actually in his lap. Or, rather, on his lap, balanced as if at the summit of a rolling hill. I caught him giving me an appraising look that I would liken to something approaching dog inspection. He had seen me looking in horror at the CSN&Y albums, and judging by his expression, this had annoyed him.

I win friends without even speaking!

At last my coffee was ready and I headed home to wolf my one-leaf-of-lettuce sandwich and ďalternative milk.Ē

The cats bothered me so much for some of my sandwich that a chunk fell on the floor. We had a tug of war with it, but I won. They are no match for me.


SUPPORT THE RIP POST, IF YOU DARE
the greatest grateful dead album
the grateful dead never made. . .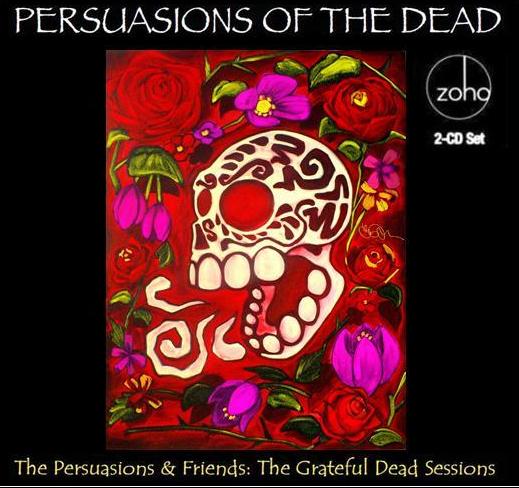 PERSUASIONS OF THE DEAD!
20 TRACKS. 2 CDs. 12 GUEST ARTISTS.
remixed, remastered, re-invented.
"Deadheads, take a hit from this double disc dose of the real thing. Persuasions fans, this may be the last time you'll ever hear a Persuasions line-up with original lead, and once-in-a-lifetime talent, Jerry Lawson. . .These tracks are stories that happen to have been set to song, not songs that happen to have a story. The difference is everything and the mindset, essential.
---Jonathan Minkoff, Recorded A Cappella Review Board.
"enchanting!"---robert hunter.
"Album producer Rip Rense calls the marriage of these two acclaimed artists "a surprisingly natural fit." He couldn't be more right. It works because these tracks are more than just covers; they're tributes. Each arrangement is designed to draw something new out of the original. Many of them include actual instruments, such as piano, guitar, and baritone saxophone."
---Nicole Maria Milano, Recorded A Cappella Review Board.

SPECIAL GUESTS: Country Joe McDonald, Mark Karan (Ratdog), Jackie LaBranch and Gloria Jones (Jerry Garcia Band), Grateful Dead keyboardist Vince Welnick, Dongming Qiao, James King, Alyn Kelley, Eric Thompson, Peter Rowan, Pete Grant, Mary Schmary.

LISTEN TO SAMPLES AND ORDER

PRODUCED BY RIP RENSE
FOR RENSART PRODUCTIONS
THE PERSUASIONS
LIVE AT McCABE'S GUITAR SHOP!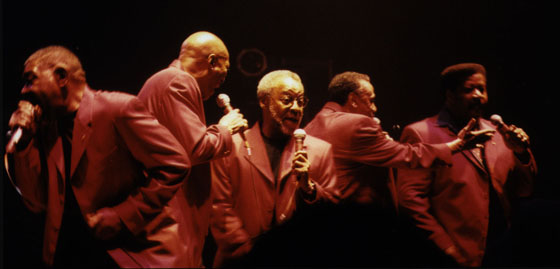 The Greatest A Cappella Group in American History
in its only LIVE NIGHTCLUB ALBUM.

NINETEEN SONGS.
70 MINUTES OF MUSIC AND JOY.
5 SONGS NEVER ON A PERSUASIONS ALBUM.

"The Persuasions have come to save your soul. America is safe again."
---The Bluegrass Special

"Live at McCabe's is a great find, a reminder of this act at its best."---Soultracks.com

"You need to buy this album!"
---Contemporary A Cappella Society

"We came out smokin'!"
---Jerry Lawson.

listen to samples
and order
NOW ON iTunes!

"Their signature album."---Floyd Kucharski.

PRODUCED BY RIP RENSE AND MARC DOTEN
FOR RENSART RECORDS.
OUR GRAND TRIBUTE TO THE ORIGINAL
L.A. DAILY NEWS!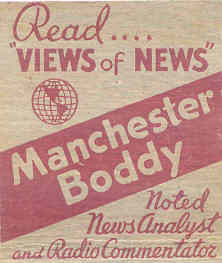 "the only Democratic newspaper
west of the Rockies."
here
New! Interview with pioneering Japanese-American reporter/Daily News librarian Mary Kitano, and her husband, veteran L.A. UPI journalist
Doug Diltz here
THE OAKS
A NOVEL
BY RIP RENSE
"Staggeringly well written. . .sweet. . .funny. . .sad. . .elegaic. . .not a thought nor sentence out of place."
---Keith Snider, San Francisco.

review: ''EDGAR SAWTELLE' VS.
'THE OAKS,'
by Barbara Weeks here.

review:Susan Christian Goulding's
Daily Breeze column on "The Oaks" here.

FLASH! MAN CHAINS SELF TO OAK TREE, READS 'THE OAKS' AGAIN AND AGAIN! here

AVAILABLE EXCLUSIVELY ON THIS SITE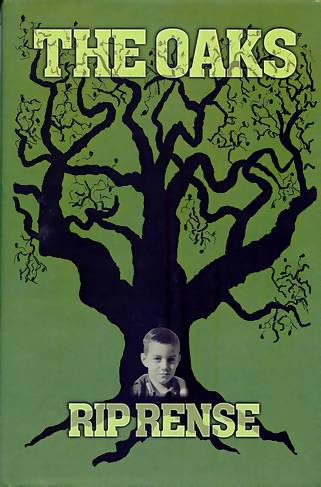 TO ORDER

"I stayed up to finish the last 100 pages.Ē
---Dave Allen, Thousand Oaks.

""This book deserves to be read by hundreds of thousands of people It is a gem that talks to a diverse group of people: those who grew up in dysfunctional families(!); Southern Californians who will love the suburban anecdotes; teens and everybody who has ever been a teen with all the awkwardness those years impart. It's also quite funny. Readers simultaneously laugh while groaning over these horribly insensitive 'adults' raising Charlie, who is much more adult than they are."
---Susan Christian Goulding,
columnist for the Daily Breeze,
People Mag. Correspondent.

REVIEWS, SUMMARY,
SAMPLE CHAPTER

Rense interviewed about "The Oaks"
in Ventura Star here.

ORDER NOW

RIP POST BOOKSTORE:

Rip's Novel,
"The Oaks"


"Less Than Satisfying Encounters With Humanity"


"Bad Words"

---------------------------------------------------
***********************************************************
LESS THAN SATISFYING ENCOUNTERS WITH HUMANITY---ILLUSTRATED.
THE DECLINE OF WESTERN CIVILIZATION. . .
Measured by its attitude.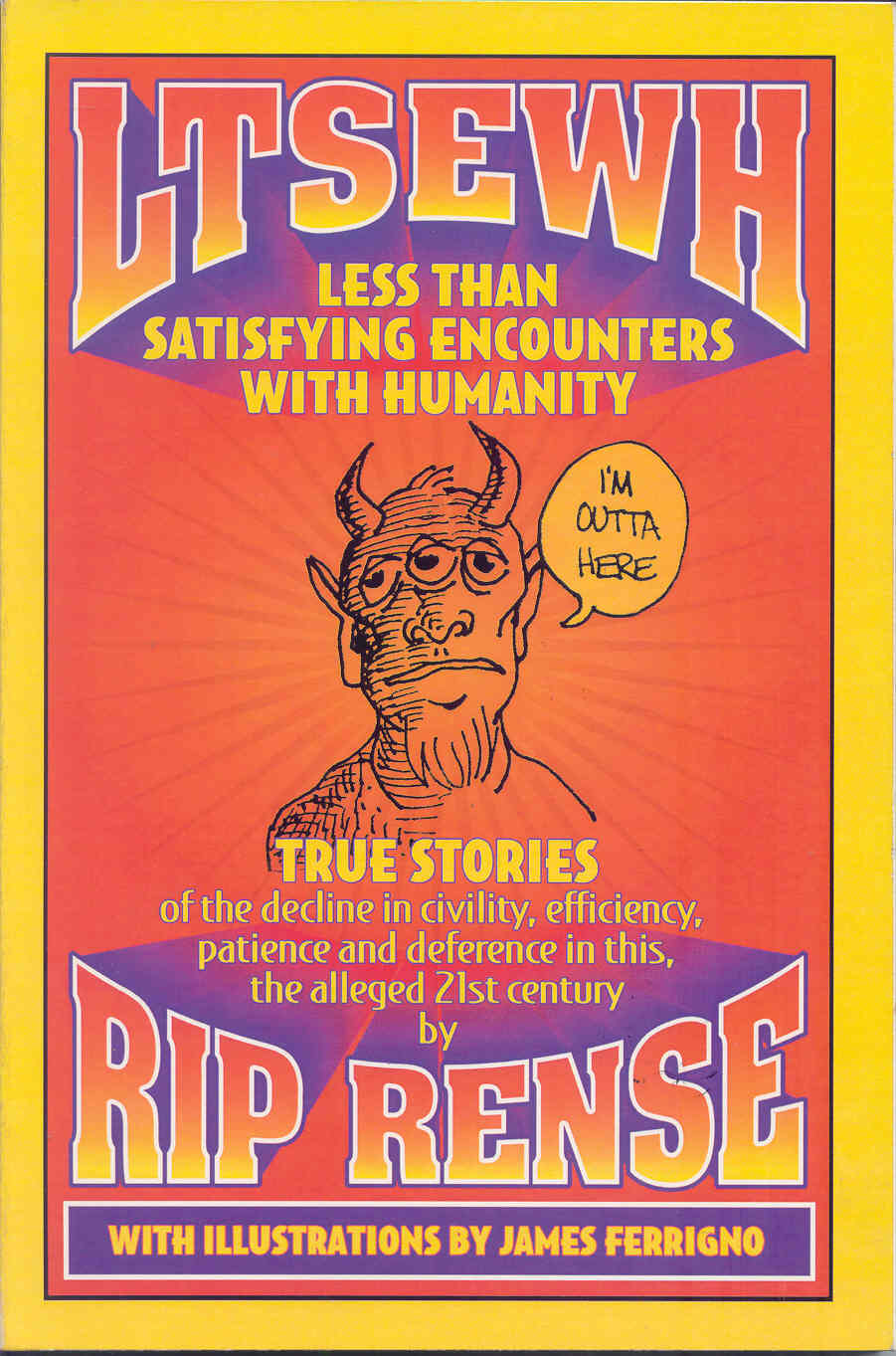 "You have more 'less than satisfying encounters' than any three other people I know. I've given this some thought and my conclusion is that it is your unhappy fate to be something of a "schmuck magnet." Unpleasant-incompetent-self-aggrandising people enter your close orbit with greater frequency
than the rest of us."
---Bob Ballenger, Encino, CA.

230 pages of LTSEWH's.
WITH ORIGINAL ARTWORK

ORDER HERE
*************************************************************
BAD WORDS:
A LINGO CZAR LEXICON
THE DECLINE OF WESTERN CIVILIZATION---
Measured by its language.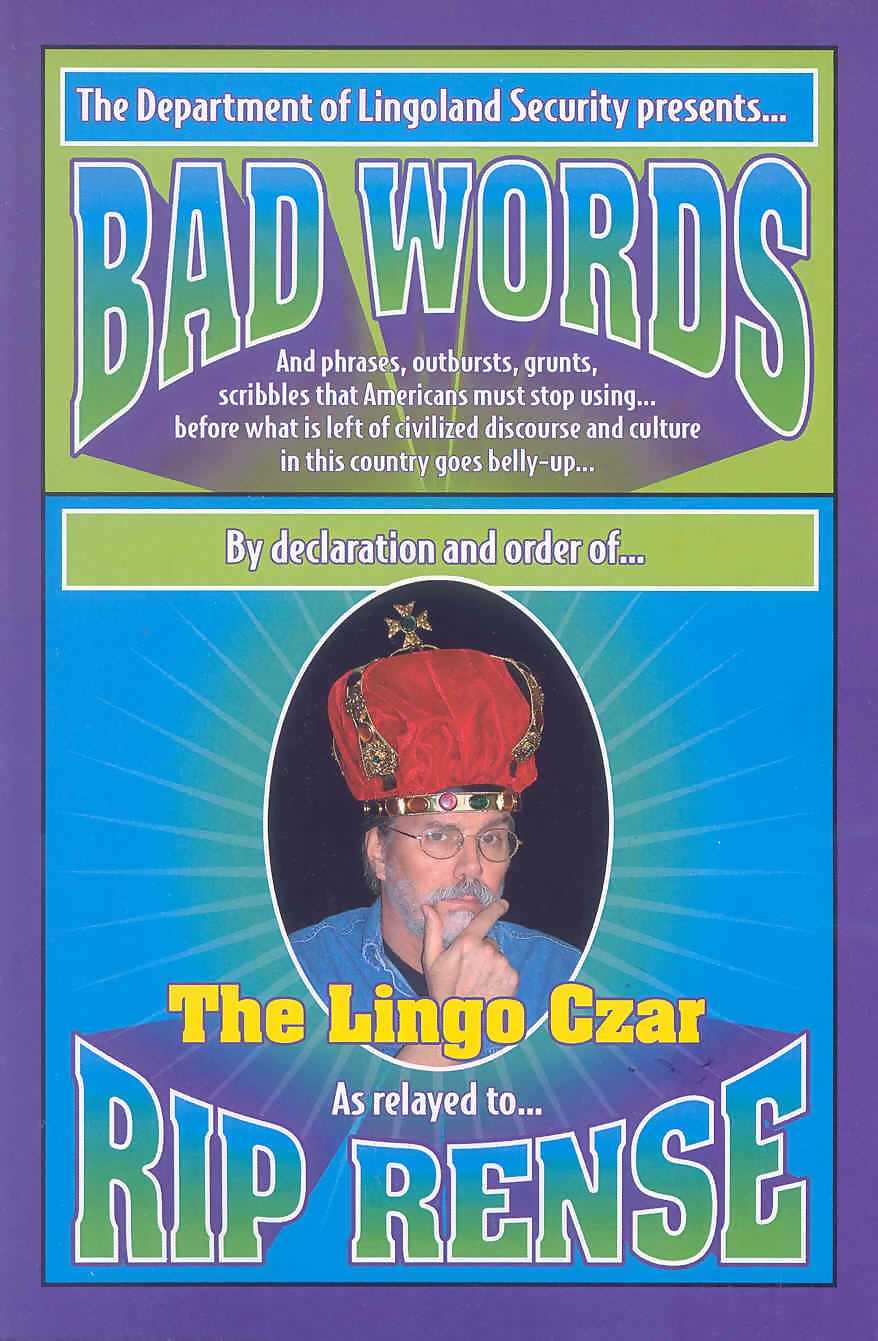 Here it is---210 acid-dripping pages exposing rigidly conformist slang, pin-headed outbursts, 'cool' patois, abominable cliches, infantile drivel, smug rejoinders, mandatory peer-enforced buzzwords and idiot-speak that Americans are spewing from their 500-word vocabularies as their knuckles hang ever closer to the sidewalk.

ORDER HERE
HERE IT IS: THE MOST IMPORTANT SPEECH MADE BY ANYONE IN THE LAST 60 YEARS, BAR NONE. LADIES AND GENTLEMEN, THE GREAT BILL HICKS.
The Rip Post Interview!
SHIN3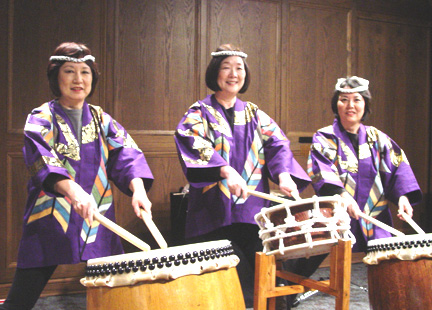 ALL FOR TAIKO, AND TAIKO FOR ALL.
How two educators and a scientist came to
devote themselves to the drum.
HERE
also. . .
DR. HU!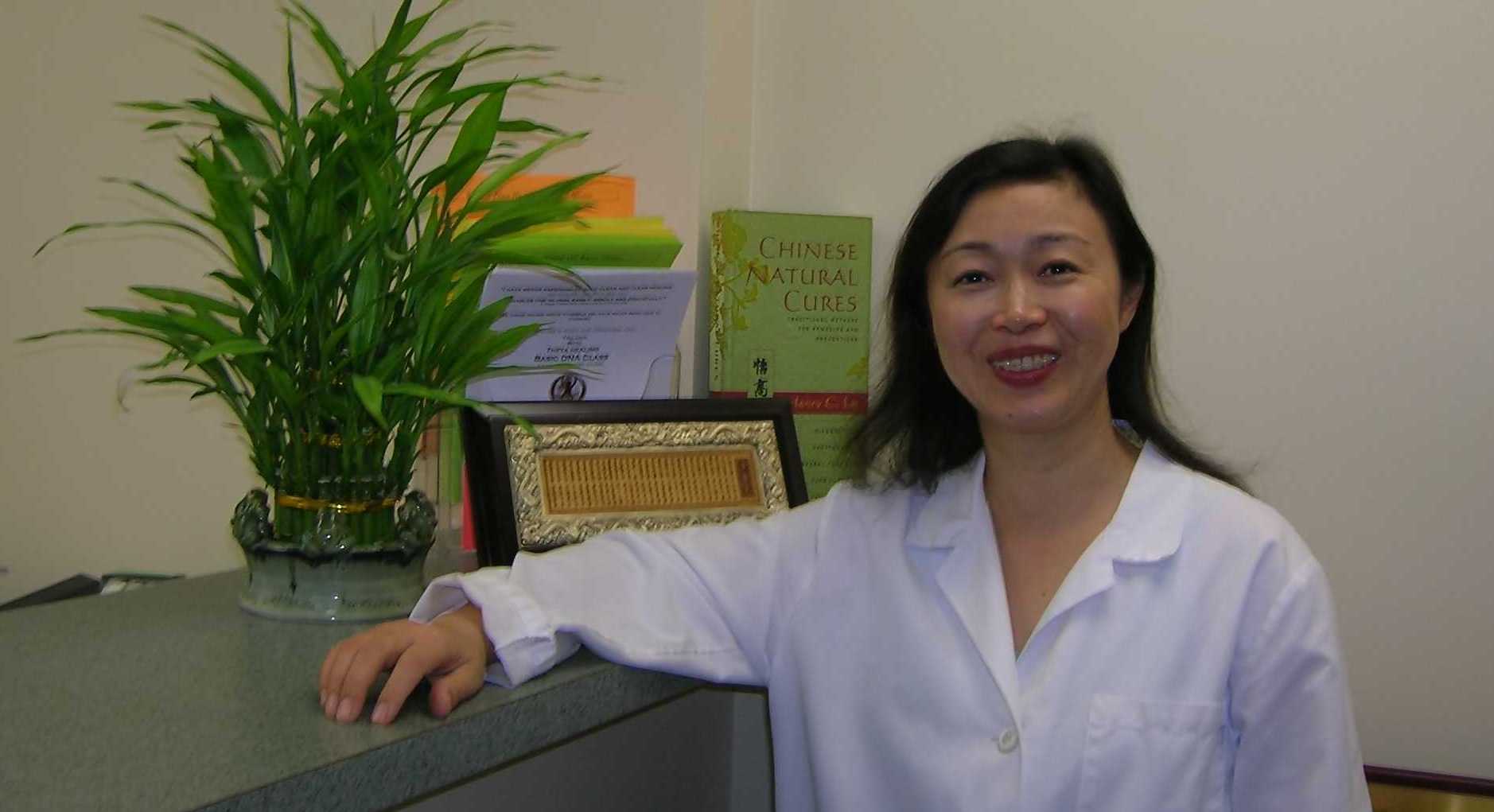 CHINESE MEDICINE DOC EXTRAORDINAIRE!
HERE

AND. . .
SIMON LENG,
AUTHOR OF "WHILE MY GUITAR GENTLY WEEPS: THE MUSIC OF GEORGE HARRISON"

AND. . .
"Mr. Smolin:
teacher, deejay, recording artist--
on Mata Hari, Daktari, high school students, John Donne, the future of the planet, and his album. . .
HERE

plus: 'Breakfast With The Beatles' host Chris Carter, and more HERE
A Verse to You:
Starring Rip Post resident laureates Scott Wannberg (R.I.P), Jack Oakes, Charles Bogle, Raj Bavnani.
Enjoy samples below, and. . .
visit the big poetry archive
VAGINA HOTEL
I walked into the Vagina Hotel
just because of the name
Tell me, I said, why is this hotel named for a vagina
and the proprietress
who claimed to be a poetess
said, why, does that threaten you
No, I said, I've never been threatened by a vagina
but then, I've never met one that could talk, either,
so I can't be sure
Misogynist loser, she said, so I moved on
Feeling hungry, I stopped at Vagina Burger for lunch
Tell me, I said, to the waitress,
Why is this place called Vagina Burger I mean
that's not very picturesque
Oh, she said, are you threatened by the word, vagina?
No, although I admit I find it a rather ugly sounding word
I mean, couldn't they have called it a morning glory or a midnight moon or something
She snorted and walked away, mumbling "asshole"
So I left and went to Starbucks where a woman on a laptop
had a bunch of books next to her called My Vagina, Your Vagina, Our Vagina, The Cat in the Vagina, Of Mice and Vaginas, Huckleberry Vagina, and The Vaginas of Wrath
Oh, and that one by Naomi Wolf called Vagina: a Biography
What are you staring at, snapped the laptop woman
Oh, sorry, I said, I couldn't help but notice your books
Do they threaten you, she said
No, books don't threaten me, I rather like them
Then why are you staring
Oh, well, I've never seen so many books about vaginas, and naturally
it piqued my curiosity
Are you threatened by vaginas, she said
No, I'm threatened by aggression, mostly, at least to some extent
But I do wonder how a vagina could have a biography
Does that threaten you, she said
Well, let me think about that, seeing as this question keeps coming up
Stupidity and arrogance threaten me, and hostile, defensive people threaten me, and guys with lots of neck tattoos of bloody knives and Jesus threaten me, but a biography of a vagina, no
that's too ridiculous to be threatening
Laptop woman's eyes got as big as ignorance and she said
What do you mean, ridiculous!
Oh, well, it's like this: the idea that retreating into a frame of mind where one's sex organ is exalted, where one's very self-worth is focused on one's sex organ, where an obsession with one's sex organ is conflated with philosophy, and in the case of the vagina, is somehow construed as "feminism" and "empowerment," well
this strikes me as asinine and puerile
and a mite indelicate
Laptop woman's eyes got as big as vaginas and she hissed get away from me you fucking pervert or I'll call security
I momentarily wondered what security's phone number might be, and happiness's, goodness's, and joy's
Then I moved on because I felt threatened
---Rip Rense
Il perche non so
mi chiamano mimi
il perche non so
my name is this
I donít know why
things pump into
neurons
sensory flesh
groceries into bag
dogs play in yard
bestial shouts from windows
supernova roses expand
petals to Betelgeuse
super apes trail offspring
hungry
no cookie
love pondered
gland obeyed
sun nuclear fire
moon barren
little mites feast
littler mites
amoral
pernicious
chanters hum
terrified pray
wail impotent trill
murders of joy
painter wipes fix
moment gone and beauty
crack and fade
universe and skin
blue eyes and harlequin
il perche non so
---Charles Bogle 7/12/10

Raj Reads!
Heard it once? Hear it twice!
Listen to Raj Bavnani's annual
end-of-year poem: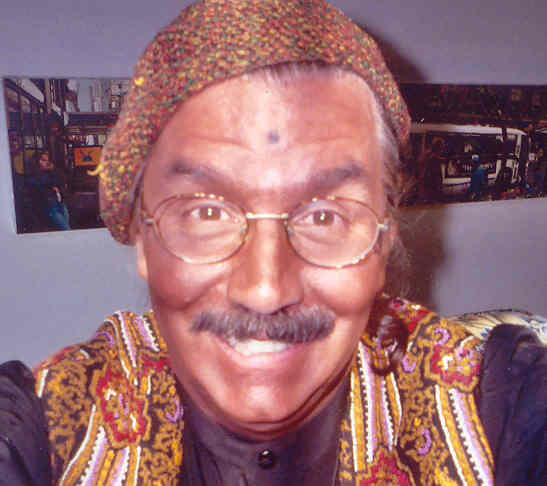 Listen at:
http://rense.gsradio.net:8080/rense/special/Raj_Bavnani.mp3
Raj read this epic poem for 2010 Jan. 3 on "The Music Never Stops," with Barry Smolin, on KPFK. He is available for private readings. Bookings: Charles Bogle at boglepr@yahoo.com slums of gold
the slums of gold
are having open houses for all the affable c.e.o.'s and financial wizards who have taken their bailout money to build shiny brand new executive bathrooms and finance relaxing weekend retreats far from the noise and fear of the street.the slums of gold have king size beds that will make the most tired and achy executive feel so human and tender.
special guarded elevators will take these new stylish tenants to the penthouse,but wait a second, sometimes the penthouse has no roof and the vultures soar overhead awaiting their next happy meal.
the slums of gold find themselves eventually under a fierce rain which washes that fake gold off revealing corroded iron and brokedown wood.
it's a new year
homicide will soon reach its deductible
and its bills will reduce greatly.
the slums of gold are having a block party.
bring all your favorite yes men and women,executives.
bring your bylaws and meeting minutes.
you'll have to budget the air
inhale just so much oxygen.
the banks glow in the dark.
they begin to pull up stakes
and slither across the earth
looking for food.
meanwhile,all humans with no health care whatsoever become kings and queens for one day.
they are asked to pose for high profile pictures.
as soon as you're through coughing up blood could you smile and say cheese.
the c.e.o.s have blood in their underwear.
should they panic?
should they take a happy pill?
all the happy pills forgot their distemper shots.
they are not agreeable this morning.
when you go to open them up to ingest one they bite your fingers.
---Scott Wannberg, 1/24/09

happy to
Happytogladtodyingto
Get me up in the morning to
wash dishes brush teeth feed cat
scratch ass stare out the window
wonder why and what
At least I wonder don't I
happytogladtodyingto
Get on the phone with hungry ghosts
asking for money calling me sir
India outsourced peasant fool robot
stealing lives for corporate America
Stare at the tube and write things
Go fly a kite things slight things
email eat a snail step on a nail
stomach burns world turns
happytogladtodyingto
Starbucks
culture mucks
might as well
be quacking ducks
Out on the street meetin cretin
nearly run over by el spunky
surrounded by savages yelling scared bitch!
sunshine superman yacks about script into unseen cellphone
isn't he impressive makes me manic-depressive
happytogladtodyingto
Wait in line with 80 stunned people mailing
gifties weight shifties while amorphous postal clerks take breaks
giggle and make very small talk stealing time ainít it fine
just makes me pine for
better days other ways Shakespeare plays forgotten lays
happytogladtodyingto
Drown in ego suffocate with self
hide from horror might as well turn off the sun
Betelgeuse screaming jokes from the cosmic topsy-turvy
Humans never get the punchlines
Too busy fighting terror speechifying leechafying preachafying chicken frying
Death defying
happytogladtodyingto
Facebook, book my face out of here
A face can be a book but a computer screen is no face
And I canít face most books
They are designed to screed, not read
They are bankbooks
Making fins for hucksters, not Huck Finns
The last book I read was the last book I will read
Kindle is a swindle
Twitter makes me want gin and bitters
Happytogladtodyingto
And someone told me he was tired of all the whining
About how this has been the worst decade of our lives
And how heíd been hearing this same moan since 1970
Get over it, people, he said, well
Iíd like this guy to tell the people who lost people in the desert follies
In Iraq and Afghanistan that they are whining
Iíd like this guy to tell broken people who lost their jobs to automatons in Sri Lanka and the Phillipines to get over it
Iíd like him to tell the people whose people died because
They could not afford health insurance to get over it
Wounds donít heal, they scar, but then,
as George Harrison said, with antidote pen
time wounds all heels
Happytogladtodyingto
Itís a time of ephemera, chimera, and etcetera
Everything is a substitute for substance
Demographers are the cartographers
antacid is the new acid
Pop a few and itís way cool consuming fool office pool
Drop a stool think its jewel youíre just a ghoul out of fuel
Happytogladtodyingto
Sloganeering domineering my eyes are tearing
Reality shows, reality slows
Social network since you canít get work
Media mavens are terrorist havens
Mexican mafia al qaeda being paraded everyone jaded
Howís it rated are you sated hellís not gated donít you hate it?
happytogladtodyingto
Salute the stars and bucks
Stars and bucks forever
May I help the next guest?
My mind is the fresh daily grind
Decaf short two percent Americano
Senior citizen barista tip jar bank account
Fatass cheap suit laptop cell-phone short-sell frappuccino freelancer
Oh say can you see
the dying of the light
happytogladtodyingto
Political correctness porno erectness
Mayors and presidents blowing smoke
Makes me choke kills all hope
Say okeydoke have a diet Coke take a toke
youíre getting soaked
Itís all set-up for same old joke
Happytogladtodyingto
Internet has privatized everybodyís ears and eyes
Everyoneís a hustler, a corporation, institute
Everyone is a singer-songwriter-dancer-director-artist-filmmaker-writer-author-mobile pet groomer
Every man is an island
I post, therefore I am
microcircuit circus
none can flee
Friends in Alabama Antarctica Alaska Anoka
And Bismark, Nice, and Raton Boca
Youíve never met them and never will
Nostalgia youtube is your pill
happytogladtodyingto
Beware the nice police
They will come in the night and
Steal your irony and kidnap your sarcasm
And hold your truth for ransom
And they will torture your reason with
Euphemisms and smiles and platitudes and clichťs
And waterboard your psyche until you speak
Like Larry King and Oprah and Tavis Smiley combiney
happytogladtodyingto
Sometimes I find poetry in cigarette butts that will soon
Go down storm drains and stop up dolphin blowholes
And sometimes I find poetry in blue skies
And the other day I found it in a goddamn computer
Dialogue bubble when I went to erase some websurfing
And it said ďAll history will be cleared. This action cannot be undone.Ē
And I thought it sounded like Nietzsche or Schopenhauer
And should have been read aloud by Rutger Hauer
As he gave that astounding speech in Blade Runner
All these moments will be lost in time like tears in rain
happytogladtodyingto
child species walks and flops and sings and drops dead
full of curious eyes and larcenous lies
Upright two-legged tool using fool bluesing
usurping and burping
Where have all the flowers gone?
Long time greenhouse gassing
Humans are on the way out and winds on the way in
Winds that will whistle through ancient rock and petrified log
For no one to hear and no one to fear
Winds that no one will hustle or paint of sing or ride
or rhapsodize with ecstatic soliloquies
Oh, tiger lily please
donít go
happytogladtodyingto
---Charles Bogle

i didn't see all that much but boy do my eyes hurt
in the hallowed building
that forgets where it lives
i saw a way of life
try to shove itself into a tube of toothpaste
the teeth of the world
chatter
when love runs naked
through the battle
that dances up and down
the road out of town.

periodically the reaper fellow
comes through selling subscriptions
but frankly his pitch needs grease
and the navy can't tread the water
you shower in.

i didn't see all that much
honest
but boy do my eyes hurt
every time you ask me to leap off the ledge
i remind you i still haven't earned anything
resembling a wing

tell the rage
to act its age and smile
once every now and then
anything it can throw at me
i've already fielded
in a time
when popcorn fell from the sky
and wounds grew gardens.

going home time
finally slipped through the wire,
treat it gentle,
pass the veneer
ache no more
for at least a minute, anyhow
heard a rumor
we were being pulled back
to a rhythm
that wouldn't break us.

killers will eventually get monuments erected in their honor.
and the pigeons will rejoice
through impending snarling weather
asleep on the side of the road
you will find civilization
rolling dice in pitch black night
one more round for the survivors
wherever they crawled off to

the highway refuses to comp you
pay as you attempt
anything
meteors aim their best profiles
at our hacienda
raise your vulnerable face
to their fire
tell them the story
you never finished
the one about the woodsmoke
the shiny people
and when its time
to wander upstairs
to a room that goes on for hours
place your heart on mine
make some music
they claim vaudeville is coming back
together
we'll bring down
the leaking
roof
---scott
florence,oregon
10/27/09
tom russell
blood and candle smoke

while
Hereís a rhyme
On a rainy day
When thereís no time
To while away
The drips drip down
And drizzle, too
And the clouds crowd
And the coffees brew
People scurry,
and hatch their schemes
And cats are furry
Asleep with dreams
---Charles Bogle

ignorance
Do ants ignore?
And do they snore?
Trailing in and out of particulate ant reality
Pushing sandgrain boulders aside
Do they know that they know only what they need to know?
No.
People, though, are blessed with peepholes
Through which they can see
Alternative reality
To shade and color their thoughts
With pointillist light
Rembrandt realism
Mondrian steelism
So why do they ignore
(And they do snore)
Trailing in and out of particulate people reality
Pushing the sandgrain world aside
Pushing the peepholes aside
Content to burrow inside anthills
And closet in caves
Of no thought or art
No daub, no sweep, no dab
Of synaptic brush
And scarcely a blush
What compels
A marvel to be unmarvelous
A miracle to be unmiraculous
A thinker to be unthinking
The ants have an excuse
Survivability is their be
But what of we?
---Charles Bogle

Going to Townes
The latest failure
turned the curve
You're travelin'
with the herd.

The calamity
called humanity,
claims unfounded
rejected, rebounded.

Snapshots, scattered,
the last thing,
failed to compose
a photographic
memory,
why don't you
recall it?

You'd prefer
to let it fade
to sepia like
rotogravure
eidetic reveries.

Going to town
world-renown
clown obit
proclaims
legends
offered,
chiseled
visages
proffered

Old man of
the mountains
Fountains
of youth
eluded

Cantankerousity
has replaced
curiosity
Verbosity has
replaced
perspicaciousness.

No lines left to
rehearse, no
time to slam
into reverse.

Call it a day
Ave, universe!
I've seen my day
no more struggle
for one last verse

I'm checking out
without a doubt
Will survey landscape
one last time, not a
pleasure trip, not even hip.
Down with the ship
Chilly winds blow
Closing the show,
last one tonight.
---Jack Oakes

let's dance
What does dancing have to do with anything?
What does anything have to do with dancing?
Prisoners of skeletons, unite!
When all is said and done, there will be nothing more to say and do
So do the exclamation point while the sun shines
Come on baby, letís do the twist
Mashed potato yeah yeah yeah yeah
Itís the latest
Itís the greatest
But dancing is confused with groin and loin
By the banal and anal
When it can just as easily be done on paper
Or in silent thought
Or turn of brush, trill of flute, stroke of lute, expression mute
The trick of the steps is in forgetting the stepping
The trick of the thought is in forgetting the thinking
The trick of the being is in forgetting the being
The thought of the being is forgetting the tricking
Dancing is moot
Atomic astute
Come on baby, letís do the quark
Mashed electron yeah yeah yeah yeah
Itís the latest
Itís the fatest
Synapse boneís connected to the sun bone
Time boneís connected to the heart bone
Night boneís connected to the moon bone
Poem boneís connected to the math bone
Now hear the word of the Chord
Shake rattle and roll
From Betelgeuse to bell toll
Toe tap tree sap sky map noon nap
Blood pump eye blink live die sigh think
The best stuff of life is the best life of stuff
Itís all important and itís all fluff
Trip on toes and bump your knees
And fall down waltzing if you please
Be a foolís the golden rule
While hosted by the molecule
---Charles Bogle

better off
We were better off
When the sun went around the earth
And the seas had an edge
Where ships full of heart sailed off
And gods made the stars wink
We were better off
When books were read by monks
And there were no lights
And no galaxies tumbling through universes
Tumbling through other universes
And pictures were painted
And saints were sainted
We were happier to have a sky
Instead of infinity
And deities to control our destinies
Instead of DNA
Howling at the moon was science
Trees were television
Words were mathematics
We were better off
Frightened of the dark
---Charles Bogle 6/22/09

A Great Long While
Itís been a great long while
since fortune did smile
upon our humble enterprise
So it should come
as no great surprise
that your recitations,
incantations and recipes
are no longer on file.
Dangle awhile upon
cliff sides and participles
Itís best to have no disciples
lest you draw a following
for your sketches and explanations
The chosen few, rent asunder,
walk amidst lightning and thunder
Assiduous students practice darshan
and greet Ezra, Rimbaud, Don Van Vliet
Kleptomaniac kelp gatherers convene
on beaches, cobblestone robbers
leave no pebble unturned as tidepool
gazers, count galaxies amid sandy grains
We go against the grain, we embrace
the rain and salute the sunset, it is
our traditional ways that we have lost
so we fabricate new canons of the soul
Kerouac, Ginsberg and Snyder might
appreciate the noblisse oblige of our
rustic rhetoric and rusted-out meteoric
resonance with the cosmic spheres anew
Iíve got this and Iíve got you, callay calloo!
The propensity of humanity toward density,
defying the obvious and reviling the propitious
Is a curse and a conundrum without cure
Make a choice for bliss, the devil blues abjure
Once and for all, last chance, last dance,
cast aside your curses, select a path thatís sure
Not much time left, so best play on through
-- Jack Oakes 2/19/09

Ramblin' Boy
What can you
imagine for a
new tomorrow?
Where can you
roar like lions
at the dawn,when
everything's almost
forgot, if not gone?

It's a new era
of hope, so we
are again told.
But I don't
think truth
is so easily
bought or sold.

Who are we to
gauge what
is the infinite
trapped as we
are in this amber,
the dimensions
we call "years"?

What we know
is soon enough
caught by the tide
and swept to
realms well beyond
blood and tears

We'll all fall prey
to some malady,
or perchance
an accidental
fatality. That's
all in the script,
you might
well remember
your lines before
the curtain falls.

Meditation on the
knowable, does
it open windows
or just pass time?

Take a step back,
you want to be fed,
and patted on the head,
like some good dog
who fell from the sky
with a mission unclear.
Must you, great huntsman,
always be barking
up wrong trees?

Your friends and kin
will always embrace
you, provided you've
learned the right
dance steps and
keep in perfect pitch.

Beyond that, what is
there than this surge
of billions of souls
we deem humanity,
arising and dying
under the light
of ancient stars?

You think you've
found one star that
will grant each
wish, but you
keeping wishing
for more wishes
when soon enough
all will be gone.

No raging at the
dying of days,
last train takes
you way out
west, far past
familiar places.
long gone are
beloved faces
faded away are
the songs you
could tune
your soul to.

This rattletrap
will eventually
collapse and
that will be that.
-- Jack Oakes, 2/7/09|

you wonder
You wonder at what
youíve heard and you
ponder remembrances
of songs no longer sung
You await now until
the last bell is rung.

Youíve slowed down
the playback to the
point at which you
can hear the real words.

Then someone pulls
out the drum again,
the 11 dimensions
convolute and unfold,
leaving our slight lives
in the dust of stellar
dissolution.
---Jack Oakes 12/08

Why should not old men be mad?
Some have known a likely lad
That had a sound fly-fisher's wrist
Turn to a drunken journalist;
A girl that knew all Dante once
Live to bear children to a dunce;
A Helen of social welfare dream,
Climb on a wagonette to scream.
Some think it a matter of course that chance
Should starve good men and bad advance,
That if their neighbours figured plain,
As though upon a lighted screen,
No single story would they find
Of an unbroken happy mind,
A finish worthy of the start.
Young men know nothing of this sort,
Observant old men know it well;
And when they know what old books tell
And that no better can be had,
Know why an old man should be mad.
---W.B. Yeats

THE REMORSEFUL DAY
How clear, how lovely bright,
How beautiful to sight
Those beams of morning play;
How heaven laughs out with glee
Where, like a bird set free,
Up from the eastern sea
Soars the delightful day.

To-day I shall be strong,
No more shall yield to wrong,
Shall squander life no more;
Days lost, I know not how,
I shall retrieve them now;
Now I shall keep the vow
I never kept before.

Ensanguining the skies
How heavily it dies
Into the west away;
Past touch and sight and sound
Not further to be found,
How hopeless under ground
Falls the remorseful day.

---A.E. Housman

A Love Letter, by Nanao Sakaki
http://www.levity.com/digaland/nanao.html

For the most incisive and prescient commentary on the current world situation ever written, click here

The Poetry of Ellen Bass
The Rime of the Ancient Mariner
by Samuel Taylor Coleridge
W.B. Yeats (Listen!)
Find A Poem
A Verse to You, updated weekly, is brought to you by Ocean Spray Cranberry Juice. Go creative!

A Verse to You Archive