GEORGE HARRISON'S LAST SONGS---TWO ALBUMS' WORTH---ARE MISSING
By Rip Rense
copyright 2020 The Rip Post, Rip Rense, all rights reserved.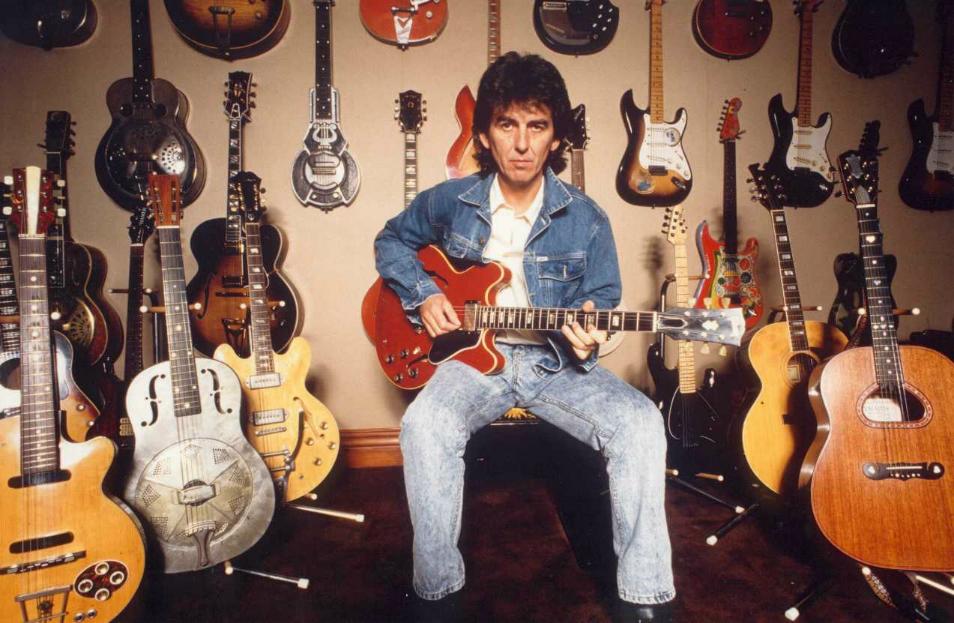 Harrison and friends.
(photo: Rex Features)
George Harrison's last songs---two albums' worth of new works with at least basic tracks and vocals complete---are missing.
The songs, first reported in 1999 by the late Billboard editor-in-chief Timothy White---and in 2001 by Harrison---were intended to be finished by Harrison friend and sometime producer Jeff Lynne.
They are part of a cache of either 37 or 35 new, never-released Harrison songs, depending on which interview you read. In a 1999 Billboard interview with White, Harrison referred to "about 37" new songs, and in a 2001 on-line chat with fans, Harrison said there were 35 new, unreleased works.
After Harrison's posthumous 2002 album, "Brainwashed," on which twelve new songs were released, that leaves either 25 or 23 whose fate remains unknown. They are reportedly lost in the famously messy, jumbled Harrison archive.
One of the lost titles is "Valentine," a song described by White in the 1999 Billboard article as a "potent power ballad that sounds like one of (Harrison's) cleverest, hit-destined excursions." Harrison, in the same article, says this: "In my music I just sing a rock and roll song about the power of love, on 'Valentine'. . ."
Originally marked for the "Brainwashed" album, "Valentine" was omitted, reportedly because Harrison's son, Dhani---who co-produced "Brainwashed" with Lynne---preferred other songs, notably "Old Rocking Chair." Harrison's widow, Olivia, has variously told interviewers that she was unfamiliar with "Valentine," and that she had searched for it, but was unable to find it.
Another song was described in Billboard as a swipe at Harrison's former manager Denis O' Brien, from whom Harrison won an $11 million judgement in 1998. Harrison told White it was "a blistering anthem about social delusions in a world running down," with the lyrics alternating between scathing and witty. Other reported titles: "Doing the Bonzo Dog," written for a Bonzo Dog Band reunion album that never happened; a Harrison version of "Love's Got a Hold on Me," written by late Traffic co-founder Jim Capaldi (released with a Capaldi lead vocal in 1997); "Shelter in Your Love," a leftover track from the '80's.
In the 18 years since "Brainwashed" was released, the Harrison Estate has issued: a remastered Harrison catalogue; an album of demos, "Early Takes," to coincide with the Martin Scorsese documentary, Living in the Material World; a remastered "Traveling Wilburys" (supergroup including Harrison, Bob Dylan, Tom Petty) box, and most recently, the revival of the entire Dark Horse catalogue of artists Harrison signed in the '70's.
Yet there has been barely a mention of Harrison's own unreleased new songs. The most substantive acknowledgement came from Olivia Harrison in 2012:
"There is some more material," she told the website, Spinner. "There may be a minute of something he was writing and it will never be finished. I had an idea of giving unfinished songs to different people – giving one to Paul, maybe, or giving one to somebody else and saying: 'Here are the bones of a song, would you like to finish it?' I think that would be a nice idea."
The most recent reference to the missing songs came in 2016, at the ten-year anniversary of "The Beatles Love" in Las Vegas, when Olivia told Billboard, "There are a lot of songs that are unfinished. I think there's a project there. I just need time to get to it."
But time is running low. Ms. Harrison is now 72. Various of Harrison's friends who might be enlisted to complete the songs are older. McCartney is 78 , Ringo Starr is 80, Keltner is 77, Eric Clapton is 75 (and has peripheral neuropathy which inhibits his playing), Elton John and Ron Wood are 73, and many others have died.
A Rolling Stone interview with Dhani Harrison about the recently reissued Dark Horse catalogue briefly raised hopes that the missing songs had been found:
"We have people digging through mountains of tapes," he said, "and they keep coming, boxes and boxes of them."
Yet Rolling Stone reported that "unreleased material and unheard songs" in question were only from the 1970 "All Things Must Pass" sessions (due for yet another re-release, the fifth including an on-line version, for the 50th anniversary this year.) Dhani's further comments about having "better versions" of long bootlegged ATMP material only make the absence of the missing new Harrison songs more conspicuous.
"There's a tremendous amount of stuff he hadn't finished," longtime Harrison friend and drummer Jim Keltner told Launch.com in 2000, "and I put drums on a tremendous amount of that stuff. Some of the songs I played on were absolutely wonderful, brilliant. I can't wait to see what he does with them. I don't know whether he'll have somebody help him produce or what, but I'm sure he'll come out with something cool."

| | |
| --- | --- |
| Harrison, mid-90's. | Two more albums of new music after his last album, Brainwashed, lost. |
Longtime Harrison engineer Ken Scott, author of the memoir, "Abbey Road to Ziggy Stardust," described the chaos of the Harrison archive in a 2012 interview with Record Collector. During the remastering for the 30th anniversary of ATMP, George charged him with finding all the album's session tapes:
"I also started to deal with his tape library and it was a real mess," Scott said. "It was really hard to find anything. . .The initial idea was, I was going to be spending a lot of time helping put together what became the Brainwashed album and sorting out all his other material. We only got so far with it and then he got sick and had to leave. And that was it, working with him. I got to continue finish working on the library and finish up some stuff with Olivia."
Later, Beatles producer Giles Martin, son of original Beatles producer George Martin, dived into the mess of reels, masters, cassettes, when he was hired to work on the Scorsese Harrison documentary and accompanying album, yet there were no reports of discovering Harrison's final recordings.
Further complicating matters is the transporting of the existing archive to new buildings on the Harrison Henley-on-Thames estate, begun by Olivia Harrison in 2017.
It should be surmised that the missing songs are substantial efforts, given the superior, inspired quality of the songs on Brainwashed. In fact, the 25 or 23 remaining songs in question seem to have marked a revival in Harrison's creativity toward the end of his life, as Olivia told veteran Chicago Tribune music writer Greg Kot in 2012:
"He loved to record, he was always doing more and more demos at night. But he'd always say, 'I'll never finish them. I'll have to give them to (producer) Jeff Lynne (to finish).' He knew he was going to be in his garden in the daytime, so they wouldn't get done. But he was discovering the singer-songwriter thing again and really doing a lot of recording. He was just getting to the point of getting some sessions together. Sadly, time ran out."
Dhani Harrison has not commented on the missing songs. The 42-year-old Harrison scion, who has had to shoehorn his own career into the huge task of curating his father's legacy---told the San Diego Union Tribune in 2017, on the release of his first solo album, "In Parallel" that he "worked tirelessly" on his father's catalogue, adding, "It took a really long time and it was a labor of love that I had to do."
Harrison further remarked to Rolling Stone that tending his father's body of work is "a thankless job---if you get it right, people go, 'Wow, that's great,' and if you don't get it beyond what people expect, they go, 'You've buggered up George Harrison.'"
If Dhani Harrison is overwhelmed with work, and his own career, couldn't he delegate the task to Lynne and others? After all, there is no question that Harrison regarded the new songs---the last of his life---seriously, was pleased with them, and wanted them released. As he said to White in 1999:
"I need to get that last song out of my system. . .Sometimes songwriting is the only way I can respond to the outside world, to exorcise its demons."
All which calls into question the priorities of the Harrison Estate, which has done an exemplary job of maintaining Harrison's recorded legacy---no doubt an emotionally wrenching task. Yet it seems fair to ask, shouldn't top priority have been given to new songs that Harrison absolutely intended for release?
It seems germane to remember his macabre quip made during the release of the Beatles reunion songs, "Free As a Bird," and "Real Love" in 1995:
"I hope someone does this to all my crap demos when I'm dead, making them into hit songs."

BACK TO PAGE ONE