Music
---
Rip Rense has written extensively about music for publications including The Los Angeles Times, The New York Times, Philadelphia Inquirer, L.A. Weekly, Los Angeles Herald-Examiner, Los Angeles Magazine, ICE, Musician, Spin, Guitar World, and most major U.S.dailies. He was the first classical music critic for the Los Angeles Daily News, and has covered the Beatles extensively for a variety of publications over 30 years. In 1982, while at the Herald-Examiner, he wrote the first comprehensive look at unreleased Beatles music, a nine-part series entitled "Off The Beatle Track," which generated international headlines and won the Valley Press Club Award for Best Features Series. He is a longtime contributing editor to Beatlefan, the oldest Beatles publication in the U.S.. In 2002, he broke the news of the restoration of the first new piece of music by Frederic Chopin in 150 years, for the New York Times. He has had the good fortune to interview and profile innumerable musicians including Frank Zappa, George Harrison, Jerry Garcia, Tom Waits, Don Van Vliet (Captain Beefheart), Leon Redbone, The Neville Brothers, Jeff Lynne, The Persuasions, Country Joe McDonald, The Chambers Brothers.

Rense has written extensive booklets accompanying Frank Zappa's The Yellow Shark and Lost Episodes albums, liner notes for The Persuasions' On the Good Ship Lollipop, Live at McCabe's, Might as Well, Frankly A Cappella, and Persuasions of the Dead, and liner notes for The Grateful Dead's Shakedown Street, Jerry Lawson and Talk of the Town's debut album, and singer-songwriter Paul Zollo. He has also written program notes for concerts by Tom Waits, The Persuasions, and the Florida Orchestra. (His notes for a concert by the FO and the wonderful Zappa tribute ensemble, Bogus Pomp, may be found here.) He owns the remarkable distinction of having introduced Frank Zappa to the great musical lexicographer, Nicolas Slonimsky (who shortly thereafter soloed with Zappa.) A selection of his music articles may be found here.

Rense also works in the music business. He spent ten years originating albums for the great American a cappella group, The Persuasions, and promoting their career. He originated and co-produced highly praised Persuasions tribute albums to Zappa (Frankly A Cappella, on Earthbeat) and the Grateful Dead (Persuasions of the Dead, on Zoho) and was project coordinator/annotator for The Persuasions' multi-award-winning children's album, On the Good Ship Lollipop (Music For Little People, see below.) He also produced The Persuasions' only live nightclub recording, The Persuasions Live at McCabe's Guitar Shop (Rensart Records.)

In other music-related ventures, Rense spent a year organizing, promoting, and hosting the "Night at the Opera" presentations for Gianfranco Ristorante All' Opera in Los Angeles, featuring singers and accompanists from the Los Angeles Opera, and Opera Pacific. There, he also organized and hosted the first tribute to the late tenor, Mario Lanza, in Los Angeles history, which included Lanza's friends and family. Below are some of the albums to have utilized Rense's expertise.

NEW: Persuasions of the Dead. A two-disc revamping, remixing, expansion, re-imagining of The Persuasions'
Grateful Dead sessions---with six new tracks, six new guest artists, new concept. More at http://persuasionsofthedead.com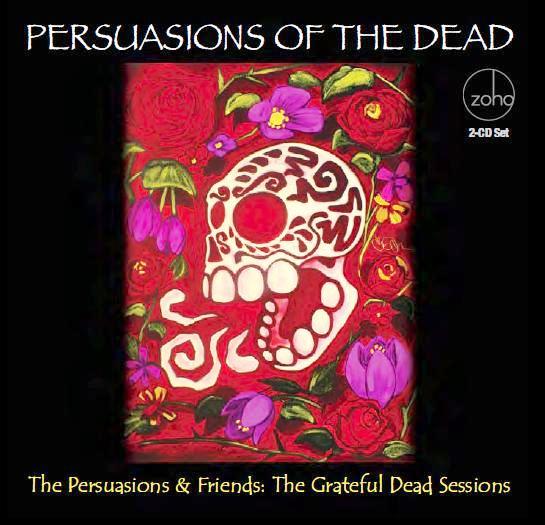 click image for full story
FRANKLY A CAPPELLA: THE PERSUASIONS SING ZAPPA---After hearing the fabulous a cappella group, The Persuasions, sing Frank Zappa's "The Meek Shall Inherit Nothing" in concert, Rip Rense spent three years pursuing this project and seeing it through, ultimately acting as executive producer/annotator/chicken-artist. Zappa's complex music is heroically assayed by the venerable Brooklyn group, and producer Gary Mankin saw to its impeccable sparkle, technically speaking.. This is a tour-de-force for The Persuasions; a novel, often hilarious rendering of some of Zappa's always novel works, from "Theme from 'Lumpy Gravy'" to "Electric Aunt Jemima" to "You Are What You Is" to "My Guitar Wants to Kill Your Mama." Rense saw to it that the group recorded little avant-garde bits a la Zappa, between tracks. Rave reviews from People, Billboard, Washington Post, San Francisco Chronicle, Variety, and really, everywhere. For the full story, click here. Click here to purchase.

click image for full story
MIGHT AS WELL: THE PERSUASIONS SING GRATEFUL DEAD---
While working on Frankly A Cappella, Rense thought of this album as a follow-up. The canon of songs by Robert Hunter and Jerry Garcia---the bulk of the Grateful Dead repertory---seemed a natural for The Persuasions. Few non-Deadheads realize that the Hunter-Garcia catalogue is one of the poetic delights of American songwriting, and Rense wanted to change that, by enlisting The Persuasions' ample harmonizing. Grateful Dead Records agreed, and signed the group for this album. The recording sessions were much looser than the Frankly sessions; the album has a kind of hootenanny feel---helped by many Grateful Dead-related guest stars, from the band's keyboardist, Vince Welnick, to Garcia's bluegrass bandmates, mandolinist Eric Thompson and vocalist Peter Rowan. For the full story, click here. Click here to purchase. Vote The Persuasions a Lifetime Achievement Grammy here.
FRANK ZAPPA/ENSEMBLE MODERN---"THE YELLOW SHARK"---In September of 1992, a gravely ill Frank Zappa and the brilliant European orchestra, Ensemble Modern, heroically rehearsed and recorded a concert of nineteen short pieces for orchestra by Zappa. The concert and album, called "The Yellow Shark," were enormously praised. (Click here for album review.) This proved to be the last live performance Zappa was able to participate in, and the last album of new music to be released in his lifetime. The composer's dry wit, impish inventiveness, and sculptural approach to music were wonderfully in evidence---from "Dog Breath Variations" to "G-Spot Tornado." The story of "The Yellow Shark" is detailed in a lengthy booklet accompanying the album written at the request of Frank and Gail Zappa by Rip Rense. It also features comments/explanations of each piece of music by the composer, and by conductor Peter Rundel. Click here to purchase.
FRANK ZAPPA---THE LOST EPISODES---Among the last albums Frank Zappa assembled, this compendium of studio leftovers spans 30 years of his career, from earliest recordings in 1958 through the late '70s. FZ worked on it as a labor of love--- almost recreationally---during 1992 and '93, while doing "The Yellow Shark," his magnum opus, "Civilization Phaze III" and other projects. "Episodes" was also perhaps a sort of thank you to the musicians who worked with FZ: from Captain Beefheart to the early Mothers of Invention to Ruth Underwood and Don "Sugar Cane" Harris. Asked by Frank and Gail Zappa to write notes, Rip Rense collected comments from FZ, then researched the tracks' histories, interviewing musicians including Captain Beefheart, Ian Underwood, Ruth Underwood, Motorhead Sherwood, Terry Bozzio for a 54-page booklet. Musician Magazine: "Made for Zappaphiles, it's obscure, diverse, and twisted, which makes it an appropriate intro for FZ novices too." Released posthumously. Click here to purchase.
THE PERSUASIONS: ON THE GOOD SHIP LOLLIPOP---
This was The Persuasions' first children's album. Rip Rense secured the deal for them, coordinated the project, wrote the liner notes (and re-wrote a couple of lyrics.) Leib Ostrow's award-winning Music For Little People label issued the disc, which went on to become the most award-winning record in the label's history. Winner: Amazon.com "Children's Artist of the Year," National Parenting Publications (NAPPA) Gold Award, Oppenheim Toy Portfolio Platinum Award, National Parenting Center Seal of Approval , American Library Association (ALA) "Notable Children's Recording." Picked by People Magazine, and named "one of the most outstanding children's albums of the year" by Billboard. "Never going to gather dust on a CD shelf," said Lynne Heffley of the Los Angeles Times. "For All Ages," proclaimed Publisher's Weekly. Endorsed by L.A. Parent, Apple Parent, and family publications across the nation. A gem for adults, too. Click here to purchase.
PAUL ZOLLO: ORANGE AVENUE---
Paul Zollo is a singer-songwriter in early 70's tradition, and this is his first album. It is a thoughtful cycle of lush melodies awash in acoustic guitars, saxophones, cellos, and whimsy. There are tales and essays, musings and anthems, reflections and poignancy. Old folks thinking of bygone days, young folks looking ahead, saints, farmers, the ruins of Santa Monica, Anthony the Pigeon, Antarctic freezes---they're all to be found on Orange Avenue. Art Garfunkel guests on a song that might easily have been written by Simon and. . ."Being in This World." Zollo is also an artist, and author whose Songwriters on Songwriting (Da Capo Press) culled together his interviews with Sammy Cahn, Bob Dylan, Randy Newman, Pete Seeger, and others. A journalist and managing editor of Performing Songwriter, Zollo did liner notes for Laura Nyro and Dan Fogelberg---and Rip Rense did the liner notes for this album. Click here to purchase.

---

© 2002 Rip Rense. All rights reserved.