Frankly A Cappella
---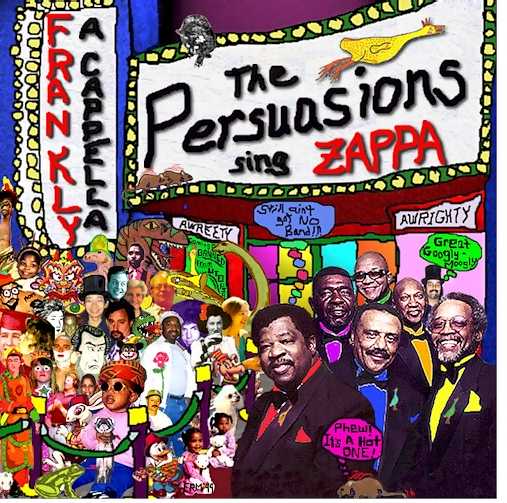 STILL MAY BE PURCHASED HERE
On the cover: Persuasions are, l to r, Jerry Lawson, Sweet Joe Russell, B.J. Jones, Jimmy Hayes (blue shirt), Raymond X. Sanders, Jayotis Washington; Zappa band members and guest stars Bruce Fowler (with trombone), Mike Keneally (with Krishna-like blue complexion), Robert Martin (lower left, red shirt, next to star); exec. prod. Rip Rense is in box office, with top hat, producer Gary Mankin in center of crowd, with goatee, cover artist Erik Mulet is in shaving cream; B.C. the cat is on marquee.
Executive Producer: Rip Rense
Produced by Gary Mankin and Jerry Lawson
Cover art: Rip Rense and Erik Mulet

The Persuasions were signed to their first album deal in 1969 by Frank and Gail Zappa. The album, "A Cappella," was released in 1970. Thirty years later, The Persuasions said thanks with an album spanning Zappa's prolific career, from 1963 to 1989. . .


FRANKLY, THIS IS HOW IT ALL HAPPENED...
Why The Persuasions and Frank Zappa? Well, the late, great Mr. Zappa had a credo about the creation of art: "Anything, Any Time, Anywhere---for No Reason at All." AAAFNRAA (say A-fen-rah, accent on the "A," which is pronounced like the "a" in "cat").
It's a concept that Frankly A Cappella deliberately, flagrantly, aggressively. . .violates. Not out of disrespect, but quite the opposite. This album exists for a very specific reason, as The Persuasions' lead singer, Jerry Lawson, explains:
"God put The Persuasions on this earth to sing. And I think at this point in our career, He wants us to remind the world what a great composer Frank Zappa was, and how much he is missed."
A composer of singular range and dedication---who wrote with equal aplomb for rock band, symphony orchestra, jazz ensemble, and Synclavier---Zappa passed away in 1992 at the tragically young age of 52. His symphonic music was just starting to become recognized and embraced by orchestras around the world.
Still, you might ask, why The Persuasions and Zappa? Simple. It was the late composer/bandleader/guitar virtuoso/social satirist and his wife, Gail, who first signed a little-known a cappella quintet to an album deal in 1969. That album, "A Cappella" was released on Zappa's Straight Records label in 1970, launching The Persuasions on their show business career.
Thirty years later, the group sends a "thank you" to the Zappas, with this twelve-song survey of the man's work, from 1963 through 1989 (and a few little nods to the composer's avant-garde side along the way.) It was all the doing of Rip Rense, who was fortunate enough to become acquainted with Zappa, and who spent three years working to see this project to fruition.
"I wanted to do something in Frank's memory, and also keep a little bit of the spirit of his music alive. I've always loved The Persuasions, and when I heard them doing a Zappa tune in concert, I knew this album had to be done. I'm not a music business kind of guy, and it was a bit of an ordeal. Hunter Thompson supposedly said, 'The music business is a cruel and shallow money trench, a long plastic hallway where thieves and pimps run free, and good men die like dogs. There's also a negative side.' He was a master of understatement. But it was well worth it to have this album."
The Persuasions heroically rose to the occasion:
"We were so honored to do it," said Lawson, who adapted the songs to a cappella Persuasions arrangements, and co-produced. "We've never worked harder on any other project in our lives."
It's actually a pretty good fit, when you think about it. Throughout the '90s, The Persuasions sang Zappa's mordant anthem to religious hyprocrisy,"The Meek Shall Inherit Nothing" to laughing houses across the country. (The sight of a gospel-influenced group singing "Those Jesus freaks, they're friendly but/ the shit they believe has got their minds all shut up" is pretty amusing.) What's more, they recorded "Lucille Has Messed My Mind Up" on their 1994 album, "Right Around the Corner," and were invited to participate in the "Zappa's Universe" tribute concerts, along with Dweezil Zappa, the Orchestra of Our Time, and a host of Zappa band alumni, in 1991.
Lawson loved the idea for an album. Yet he had reservations. . .
"It sort of scared me at first," he said. How, he wondered, do I make The Persuasions---who learned their harmonic chops on the stoops of Brooklyn---imitate Zappa's pianos, horns, guitars and drums? How to translate Zappa's complex instrumental arrangements into six-part vocal harmony?
The Pers first tackled the composer's theme from "Lumpy Gravy" (which Zappa referred to as "Duodenum") in lengthy rehearsals. They had never interpreted an instrumental before. It worked splendidly, though---well enough for Lawson to gain confidence in the whole undertaking.
The project demanded some personnel augmentation. The original Persuasions line-up, together since they met on Brooklyn basketball courts in 1962: tenor "Sweet Joe" Russell, "Human Sub-Woofer" bass Jimmy Hayes, tenor/baritone Jayotis Washington, Lawson, he of the big-time baritone, and the spirit of the original baritone, the late Toubo Rhoad---the "glue" of the group---who passed away in 1988. Lawson enlisted baritone B. J. Jones, a sometimes Persuasion since '97---and expanded the group to a sextet with high tenor Raymond X. Sanders, whose guest vocal work on Persuasions records dates to their "Right Around The Corner" album.
The end result: a souped-up Persuasions with greater depth and dynamic range, and a brilliant performance, start to finish.
Frankly A Cappella's songs were chosen largely by Rense, who acted as executive producer and, to borrow a Zappa term, "central scrutinizer," of the project---coordinating everything from the cover art to recording sessions to writing the "Mystery Track" at the end of the album (and contributing guest vocal effects here and there, including remarks about pancakes in "Electric Aunt Jemima" and the coveted line in "You Are What You Is"---"I ain't no nigger no more!")
Producer Gary Mankin worked on album arrangements with Lawson (the Pop Staples-influenced rendition of "My Guitar Wants to Kill Your Mama," perhaps the album's standout track, was his inspiration.) He spent several days rehearsing the group in New York City, before they all headed west to the pine and madron-surrounded mountaintop recording studio/retreat of Leib Ostrow, owner of Earthbeat! Records, just north of Redway in Northern California. There, the Frankly A Cappella team spent nine grueling days of a summer heat wave painstakingly knocking out the tracks, doing take after take (after take) just to get their individual parts as pitch-correct as possible---in respect to Zappa's reputed fastidiousness.
The clarity and technical sparkle of Frankly A Cappella is entirely the work of Mankin, who had engineered and associate-produced The Persuasions' multi-award-winning 1999 children's album, "On The Good Ship Lollipop" (Music for Little People.) A longtime admirer of Zappa's, Mankin jumped at the chance to work with on the project, terming the Persuasions/Zappa venture the "opportunity of a lifetime." In studio, he came up with many stylistic twists, including the "human rhythm box" vocal percussion section on "You Are What You Is," suggesting that Persuasions basso profundo Jimmy Hayes do "scat trombone" solos on "Lumpy Gravy" and "Cheap Thrills." In the end, said the estimable Mankin of The Persuasions: "Who needs a band? Here is proof!"
Not everything on Frankly A Cappella is a cappella. Several tracks are almost-cappella. Zappa band alumni Bruce Fowler (trombone), Mike Keneally (guitar), and Robert Martin (vocals) were invited to join the proceedings. Fowler, one of the jazz-great Fowler Brothers, played with Zappa and served as his occasional horn chart arranger over almost twenty years. Today, he is the pre-eminent studio 'bonist/horn arranger in Hollywood (and member of the Zappa alumni band, Banned From Utopia.) Fowler trades solos with Hayes' scat-trombone on "Cheap Thrills." Keneally, part of Zappa's final touring ensemble in 1988, offers a spidery solo on "My Guitar Wants to Kill Your Mama." You could call one other Frankly A Cappella track extra-cappella, courtesy Martin, invited to scale the vocal heights on Zappa's affectionate '50s doo-wop parody, "Love of My Life." All three, who participated as a labor of love, joined together on the album closer, "Tears Began to Fall."
The album, not surprisingly, ranges from the ridiculous ("Electric Aunt Jemima" ) to the sublime (the rather serious, and rather gorgeous, "Any Way The Wind Blows.") Lawson saw to it that Frankly A Cappella was a bit, as he likes to say, "loosey-goosey." A little in the spirit of the old Mothers of Invention, The Persuasions played around a bit, egged on by Mankin and Rense. Some of the "Mothers of Persuasion" moments: Lawson's improvised "Sam Cooke"-like couplets at the end of "Jemima"; Lawson and his wife breaking into a twisted version of "The Bickersons" on "Harder Than Your Husband"; three Zappa-esque abstract "interludes" built out of Pers vocal histrionics by Mankin, his wife, Jacee McHugh, and Rense. Then there is a "Mystery Track." A recurrent device that Zappa used many times---from "Lumpy Gravy" in 1968 to "Civilization: Phaze III" in 1992---was to have disparate souls stick their heads inside a grand piano (for the ambient echo) and improvise dialogue. Real AAAFNRAA stuff. On "Mystery Track," Persuasions Hayes and Washington plunged their heads into a Steinway, and well, you have to hear the results. . .
How did The Persuasions link up with Zappa in the first place? Credit the group's first manager, David Dashev. Now a screenwriter who operates a Florida health care center, it was Dashev who played a live performance tape of the little-known Persuasions for Zappa over the telephone, from New Jersey, one evening in 1969. As Zappa told Rense in a 1990 interview, "I could tell, even over the phone, that these guys were something special." At Frank's invitation, Dashev later brought the tape to Zappa's home in the Hollywood Hills. The first song they listened to was "Searchin' For My Baby." Dashev couldn't get a read on Zappa's response, and feared the worst when the man got up and walked out of the room---only to return minutes later with Gail.
"He wanted her to hear it," said Dashev. "I think her enthusiasm was a key factor. She loved the guys." (Frankly A Cappella is dedicated to both Frank and Gail.)
They spent several hours listening to the tape, and to Dashev's tales of these five young men who were employed as counselors, butchers, and singers at Bedford-Stuyvesant Restoration, a federal program to rebuild the troubled Brooklyn neighborhood. Zappa gave a thumbs-up to sign The Persuasions to Straight Records---and suggested using the audition tape as the finished album. As Dashev recalled, Zappa didn't see any need to re-record a note. (The A Cappella album wound up using half audition tape, and half new studio tracks.)
"Here's a man that heard us over the telephone," said Lawson, "and said we had a place in the show business world. He never knew there would come a day that we could pay him and his wife and family our biggest compliment by doing his music. . .We wish he could hear it, but then, we hope he does."
In any case, there has been no greater satisfication for Lawson and the Frankly A Cappella team than the approval of Gail Zappa and the family, who have graciously given the album their blessings---and hosted a party for them in their home when Frankly was released.
Finally, some of the readers might be wondering about the chicken on the cover art. Is it an AAAFNRAA? Yes and no. On October 11, 1971, The Persuasions opened for Zappa's Mothers of Invention at Carnegie Hall. Lawson, watching from the wings as the Mothers did rather strange things with a rubber chicken during their show, later asked Zappa, "Hey, Frank, what does the chicken mean?" Zappa smiled, and said, "it means whatever you want it to."
A somewhat bemused Lawson at last found a meaning for the rubber chicken---making it the mascot for Frankly A Cappella: The Persuasions Sing Zappa. It hung next to his microphone, in studio, for the whole project.

Copyright © 2000 Rip Rense. All rights reserved.
FZ, Zappa, Frank Zappa and the "moustache" are trademarks belonging to The Zappa Family Trust, all rights reserved.


REVIEWS:
BILLBOARD
SPOTLIGHT: THE PERSUASIONS, "Frankly A Cappella: The Persuasions Sing Zappa"
In a work of absurdist inspiration worthy of its subject, gospel a cappella heroes the Persuasions offer up a surprisingly soulful collection of…that's right, Frank Zappa covers. The vocal quintet -- expanded to a sextet for this outing -- pays homage to Zappa, who inked them to their first album deal in 1969. The 12 featured songs are a savvy survey of Zappa's legendary catalog of avant-garde rock and jazz, spanning the years 1963-1989. As a bonus, the album features contributions from former Zappa collaborators like trombonist Bruce Fowler on "Cheap Thrills" and guitarist Mike Keneally on "My Guitar Wants To Kill Your Mama." But the Persuasions, who previously covered Zappa's "Lucille Has Messed My Mind Up" on 1994's "Right Around The Corner," have no problem translating his complex musical arrangements with just six-part harmonies. As evidenced on tracks like "The Meek Shall Inherit Nothing" and "Lumpy Gravy" (A Zappa instrumental composition), "Frankly A Cappella" is a novel re-working of a true original. Great Googly-Moogly, indeed.
PEOPLE MAGAZINE'S STEVE DOUGHERTY:
And now for some bizarre bedfellows. On this tribute to the late avant-garde composer and social satirist Frank Zappa, leader of the Mothers of Invention and wearer of surreal facial hair, the Persuasions perform 13 Zappa titles, among 'Lumpy Gravy,' 'Electric Aunt Jemima,' and 'My Guitar Wants to Kill Your Mama,' from Mothers albums such as 'Freak Out,' 'Uncle Meat,' and 'Weasels Ripped My Flesh.' Unusual fare for a group of six middle-aged gentlemen famous for their earnest a cappella vocalizing. Yet The Persuasions---who launched their recording career in 1969, when Zappa signed them to his Straight label after listening to a tape a friend played for him over the telephone---deftly manage the complex arrangements and intricate rhythm structurs that Zappa wrote to challenge a generation of virtuoso instrumentalists. And the group does not shy away from the bitter sarcasm of tunes such as the Mark Twain-inspired 'The Meek Shall Inherit Nothing.' We're persuaded.
SAN FRANCISCO CHRONICLE, JOEL SELVIN:
As a composer, Frank Zappa never attracted a lot of interpreters. His own versions were so exacting, he didn't leave a lot of wiggle room for other people. A great deal of the essence of Zappa lay in careful juxtapositions of highly detailed music and pointed lyrical sentiments. But The Persuasions have struck a near-perfect balance. The long-standing a cappella group doesn't really change its trademark style, but rather brings Zappa into its world---and not just his comical doo-wop, but even orchestral pieces such as "Lumpy Gravy." These singers understand both the content and the spirit of Zappa's songs, which is why this album is as good as it is. To have these black voices joining together in gospel harmonies over Zappa racial commentaries in "Electric Aunt Jemima" or "You Are What You Is" brings entirely new meaning to the compositions. And Zappa's slightly bent takes on both romantic and carnal love---such as 'Harder Than Your Husband'---gets a much more goofy grin on the faces of The Persuasions. Zappa's iconoclasm went all the way to the bone and The Persuasions are savvy enough to keep their own charming eccentricities intact while tackling Zappa's."


HIGHLY SUGGESTED READING: The Real Frank Zappa Book, by Frank Zappa with Peter Occhiogrosso (1989, Simon and Schuster).

HIGHLY SUGGESTED LISTENING: If you are unfamiliar with Zappa's music, try the Strictly Commercial compilation for songs, the Strictly Genteel compilation for orchestral work (or The Yellow Shark), The Grand Wazoo for jazz-inflected work, and, if you're more adventurous, try the Grammy-winning Jazz From Hell synclavier album. For sheer musical tour-de-force, Overnight Sensation and Apostrophe are hard to beat. If you wonder what it was like to be at the remarkable event that was a Frank Zappa performance, try any installment of the You Can't Do That On Stage Anymore series.

DON'T FORGET TO REGISTER TO VOTE!

BACK TO MUSIC PAGE