Might As Well
---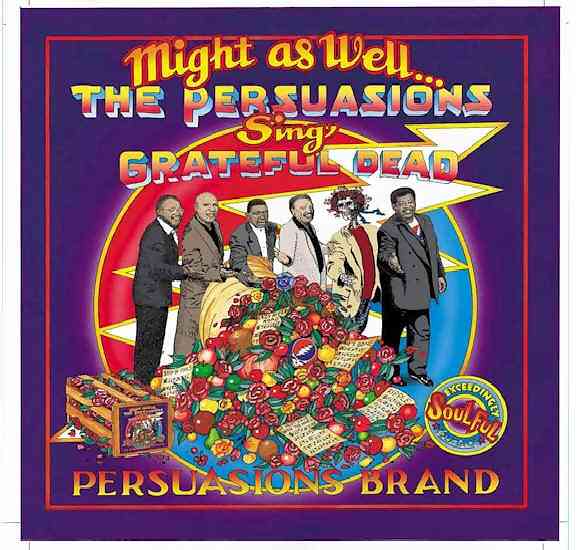 TRAGICALLY OUT OF PRINT!
BUT STILL MAY BE PURCHASED HERE
GRATEFUL DEAD RECORDS
Cover Art by Randy Tuten and Whit Clifton
Executive producer: Rip Rense
Produced by Jerry Lawson and David Gans
Project manager: David Gross
Booklet: Rip Rense

"You done me and Jerry proud."---Robert Hunter

ORDER IT HERE

"One good ride from start to end
I'd like to take that ride again. . ."
--Might as Well, by Robert Hunter & Jerry Garcia.

FROM BROOKLYN TO BERKELEY: THE PERSUASIONS MEET THE GRATEFUL DEAD
IT HAPPENED IN A NONDESCRIPT WHITE STUCCO BUILDING IN BERKELEY, a place where fledgling psychedelic bands, including Country Joe and the Fish, once cut tracks. Bay Records---originally known as Sierra Sound---sits in a "Nuclear Free Zone" of old wooden houses and Baptist churches, under a haze of San Francisco fog and the sweet smoke of Flint's Barbecue. Little boys in weedy lots play with old tires, cats dig in dumpsters, and sometimes, a cop tackles a burglary suspect in somebody's back yard. . .
It was here that The Persuasions, the most enduring a cappella group in America, met the most enduring band ever to emerge from San Francisco's psychedelic scene, Grateful Dead. Streetcorners of Brooklyn, meet. . .Shakedown Street. Five guys with no band, four of whom have sung together for 35 years, flew out from New York City to sing life into songs left largely mute since Grateful Dead bandleader Jerry Garcia died in August, 1995.
Why?
"These are heavy songs," said lead singer Jerry Lawson. "Great songs. 'It Must Have Been The Roses'---those words will make you cry."
Since Frank Zappa signed them to their first album deal in 1969, The Persuasions have recorded Lennon-McCartney, Curtis Mayfield, Bob Dylan, Kurt Weill, Sam Cooke---everything from gospel to folk to Motown to Elvis. As their great second tenor, "Sweet Joe" Russell is fond of saying, "we do more with a note than a monkey can do with a peanut." While they are often miscategorized as "oldies," or "doo-wop," The Persuasions have always been a thoroughly original, eclectic ensemble anchored by one of the cleverest lead singers and arrangers in popular music: Lawson.
"Some songs, to us, just sound like 'Persuasions' songs," said the man. "We hear 'em, and we know they're for us. These Grateful Dead songs---they're Persuasions songs."
The Pers, as they call themselves, first crossed paths with things GD July 10, 1977, when they opened for the Jerry Garcia Band at the Calderone Concert Hall in Hempstead, New York (Long Island). It was a memorable joint occasion---so to speak:
"All the Deadheads started throwin' stuff at us, man!" remembered the Persuasions' "human sub-woofer," bassman Jimmy Hayes. "We thought, shit, they must hate us or somethin'---then I look down and see that they're throwin' joints! And hash! I was down on my knees, man, fillin' my pockets."
While not exactly Deadheads, Hayes and Lawson had long admired Garcia. In terms of vocal phrasing, Lawson emphatically ranks the beloved singer with Sam Cooke, Brook Benton, and David Ruffin.
Rip Rense originated the Pers/Dead project while working with The Persuasions to record the children's album, On the Good Ship Lollipop, and the Zappa tribute, Frankly A Cappella: The Persuasions Sing Zappa.
"It seemed a such a natural. The songs of Robert Hunter and Jerry Garcia are a great American canon, yet few non-Deadheads understand this. I hoped that The Persuasions might translate them into a pure, rich, harmonic context."
A phone call to David Gans, host of the nationally syndicated Grateful Dead Hour, yielded an invitation: would The Persuasions like to record a song for an upcoming album of GD tunes by other artists---on spec? Gans was producing the CD, entitled Stolen Roses, for Grateful Dead Records, and would be happy to give the guys a shot.
Lawson, et. al headed right into the studio---or rather, into the living room/studio of their friend, Sean Altman, of Rockapella---and promptly cut Robert Hunter & Garcia's poignant "Black Muddy River." Gans was sold at first listen. Largely on the strength of that recording, Grateful Dead Records was soon sold on the concept of Might As Well: The Persuasions Sing Grateful Dead.
The title is apt. Co-producers Lawson and Gans put aside the rule book for typical Persuasions albums, instead adopting a more freewheeling approach---and the whole session more or less turned into a kind of hootenany. The Grateful Dead, after all, were famous---infamous, some would insist---for taking risks; for following muse, rather than formula. No song, after all, was ever performed the same way twice; Garcia, Bob Weir, Phil Lesh, and company launched into free-form jams in just about every show of their three decades. The band once developed an entire album of original songs from sheer studio jamming, Blues for Allah. . .
Accordingly, as much as possible of Might As Well was recorded with all the Persuasions performing live, with little or no overdubbing or technical trickery---much as the GD did on their 1987 album, "In the Dark." As with "In the Dark," the idea here was to capture spirit, not studio sterility. One listen to Lawson's gentle rendering of "Ripple" (first take) or Hayes' elegant bass underpinnings---or "Sweet" Joe's spontaneous Wilson Pickett-like shrieks on "Loose Lucy," or the group's ensemble tenderness on "Brokedown Palace"---and well, the case for the approach is well made. But there was more than vocal wonderment at work here. As Lawson proclaimed throughout the twelve-day sessions:
"Let the creative juices flow! Let's put everything into the stew and see how it tastes. We want to make something for the Grateful Dead family. Let's keep all ideas. Might as well!"
"All ideas" included a lot of guest artists---pretty much everyone who wandered in the back door of Bay Records, from the daffy "voice trumpet" solo on the title track (that's the amazing Alyn Kelley of the a cappella group, Mary Schmary) to the pastoral mandolin (Eric Thompson) of "Lazy River Road."
Yes, there are instruments! Spices for Lawson's "stew" just kept showing up. Peter Rowan (Garcia's bandmate on Old and In the Way) wants to trade vocals with Lawson on "Sugaree"? Might as well. How about Pete Grant, who played pedal steel guitar on Aoxomoxoa, adding an elegiac dobro solo to "It Must Have Been the Roses?" Might as well. The a cappella group, Mary Schmary, ardent fans of The Persuasions, want to sing on, well, absolutely anything? Might as well! Grateful Dead keyboardist Vince Welnick wants to accompany The Persuasions on "Bertha" and "One More Saturday Night?" Might as well! Andrew Chaikin of the a cappella group, The House Jacks--- he of the freakishly real "mouth drums"---wants to "drum" on "Saturday Night?" Might as well! Joe Craven, who played with Garcia on "Shady Grove," wants to beat on cans and cowbells for a track or two? Might as well. How about Jimmy Hayes singing "Ship of Fools," accompanied only by Welnick?
Might as well.
With Welnick's presence, there was more than just whim at work. So says Lawson:
"It was an honor just to sing these great songs. But for us to play with a member of the Grateful Dead, that's heavy. That's God's work."
Shortly after Welnick arrived in his '93 Lincoln (a gift from Garcia, he announced with misty eyes), Bay Records was alive with the sounds of the. . .Grateful Persuasions. San Francisco Chronicle columnist Jon Carroll---who came to write a column, but wound up staying for every single session---was observed to rise up on tippi-toes, eyes closed, and do a merry little quasi-flamenco dance as the "band" charged through "One More Saturday Night." (On a Saturday night, of course.)
"Try to forget everything you know or think you know about the Grateful Dead," Carroll wrote in one of four(!) Chronicle columns he devoted to the project. "Forget Deadheads, tie-dye, drug overdoses, the scene in the parking lot, which version of 'Dark Star' is best, the alarming mortality of keyboard players, lawsuits involving ex-wives---banish it all from your mind. . .Here's why: Suppose, not to put too fine a point on it, that Grateful Dead songs could be recorded by people who could actually sing. Suppose, for instance, they could be recorded by the greatest a cappella group in the history of America."
Lest any Deadheads find the genial Mr.Carroll's observation about Grateful Dead's collective pipes provocative, remember that the late Garcia used to too-modestly remark that he hoped someone might come along, one day, who would do justice to these songs. . .
Well, give a listen to "Ripple," "He's Gone," "Loose Lucy," or "Ship of Fools," and see if you don't think that Jerry got his wish.

PHOTOS FROM THE SESSIONS MAY BE FOUND HERE. San Francisco Chronicle columnist Jon Carroll's four columns about the sessions may be found here, here, here, and here.

VOTE THE PERSUASIONS THEIR FIRST AND LONG OVERDUE GRAMMY HERE!
REVIEWS:
BOSTON HERALD:
"...an a cappella tour de force that captures the Dead's soulfulness and transforms it into pure joy." -- Boston Sunday Herald 11/19/00

SAN JOSE MERCURY NEWS, BRAD KAVA:
"The Persuasions' ``Might As Well'' is sort of soul's reclaiming of the Dead. The Marin band spent enough time stretching soul classics into silly putty jams. Now, these soulful a cappella singers tighten up and play right, putting the funk back into tunes such as 'Ship of Fools' and 'He's Gone' Take a listen: For the first time you can actually make out a lot of the lyrics....will please even Dead haters."

SAN FRANCISCO CHRONICLE, JON CARROLL:
"Suppose, not to put too fine a point on it, that Grateful Dead songs could be recorded by people who could actually sing. Suppose, for instance, they could be recorded by the greatest a cappella group in the history of America."

LOST AND FOUND SOUND
"The a cappella group The Persuasions decided to do an album of Grateful Dead songs. As "The Dead" have been icons of sub-culture since the mid 60's, and have inspired more than one generation of devotees (Deadheads), they knew that covering the harmonies would not suffice. They would have to rediscover AND reinvent the music - both for themselves, and the audience." NOTE: The award-winning NPR program, hosted by The Kitchen Sisters, spent a day in the studio during recording of "Might As Well." You can hear it here.
THE SONGS:
(All songs by Hunter and Garcia unless otherwise indicated. All lead vocals by Lawson unless otherwise noted.)
HERE COMES SUNSHINE (excerpt)
MIGHT AS WELL (with Mary Schmary)
LAZY RIVER ROAD (solo verse: Jimmy Hayes; mandolin solo: Eric Thompson)
LOOSE LUCY (lead vocal: "Sweet Joe" Russell)
RIPPLE (with Mary Schmary, Pete Grant, Eric Thompson)
BROKEDOWN PALACE
LIBERTY
SUGAREE (guest vocal: Peter Rowan---http://bgr.ee/ROWAN/)
SHIP OF FOOLS (lead vocal: Jimmy Hayes, piano: Vince Welnick)
HE'S GONE (with Mary Schmary)
IT MUST HAVE BEEN THE ROSES (with Mary Schmary, and dobro solo by Pete Grant---www.petegrant.com
ONE MORE SATURDAY NIGHT (by Bob Weir---with Vince Welnick, piano; Andrew Chaikin, vocal percussion; Joe Craven (www.spiritsong.com, pail, bean cans, cowbell; David Gans, guitar.)
BERTHA (with Welnick, piano; and Craven, percussion.)
I BID YOU GOODNIGHT (trad., arranged by the Persuasions, with guests Mary Schmary)
BLACK MUDDY RIVER

THE PERSUASIONS:
Jerry Lawson: baritone, lead vocalist, head chef
Jimmy "Way Down" Hayes: bass, human sub-woofer, voice trombone
Joseph "Sweet Joe" Russell: second tenor, Wilson Pickett quotations
Jayotis Washington: tenor, baritone, inspiration
Raymond X. Sanders: first tenor, soprano, good will
(baritone Bernard "B.J." Jones appears on "Black Muddy River.")

GUEST ARTISTS:
Mary Schmary:
Cynsa Bonorris (bass)
Myriam Casimir (bass)
Alyn Kelley (alto/soprano, voice trumpet)
Desiree Pointer (alto/soprano)
Vince Welnick---piano, vocals, exuberance
Pete Grant---ten-string Zephyr Dobro
Eric Thompson---mandolin
Peter Rowan---guest vocal, yodeling
Joe Craven---percussion, vocal percussion
Andrew Chaikin---vocal percussion
David Gans---guitar, occasional vocals
Executive Producer: Rip Rense
Booklet: Rip Rense
Produced by Jerry Lawson and David Gans
Recording Engineer: Mike Cogan
Project Manager: David Gross
Song Arrangements: Jerry Lawson
Recorded at Bay Records, Berkeley, California
(except "Black Muddy River," produced by Lawson
and Sean Altman, recorded at Big Sean Studio, NYC.)

BACK TO MUSIC PAGE