RIP POST WORLD EXCLUSIVE:
JOHN LENNON PLANNED TO REUNITE THE BEATLES
May Pang's disclosure rewrites history of the most influential pop music group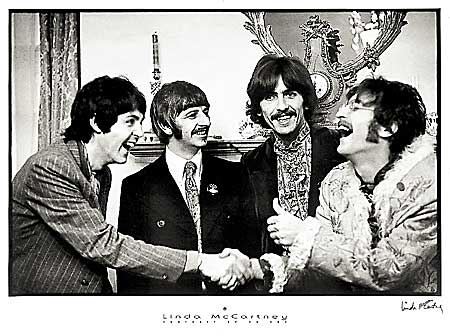 by Rip Rense
(May 2, 2008)
copyright 2008 Rip Rense, The Rip Post, all rights reserved.

WATCH: LENNON TALKS ABOUT A POSSIBLE BEATLES REUNION DURING THE "LOST WEEKEND" HERE.

Former John Lennon paramour May Pang revealed that Lennon---the man who instigated The Beatles' break-up---actively planned to reunite them in 1974, but that "logistics" got in the way, The Rip Post has learned.
This is the first report ever that Lennon not only wanted to make new Beatles music, but planned to do it.
Pang's revelation came during a lengthy interview with Casey Piotrowski, host of the nationally syndicated weekly radio program, "The Beatles Show," in which she said that the ex-Beatle wanted to record one new song with the group as a prelude to a possible formal reunion.
"If one (song) comes around and it works, maybe we'll do another," Lennon said, according to Pang. "It was to be behind the scenes. A quick one-off, and let's see from there."
Piotrowski's full interview with Pang aired May 3 on WPMD-FM, the Cerritos College station, and later in 23 other markets across the country.
In a follow-up interview with The Rip Post, Pang confirmed the reunion story, and added that Lennon considered upstate New York, possibly Syracuse, as site for the new Beatles session. There was no talk of song titles, and the plan never got past the talking stage, but Pang said it was clear that this was something Lennon "absolutely" intended to do.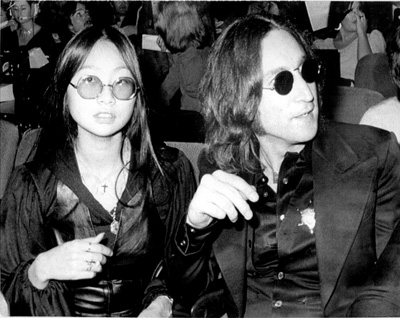 John Lennon and May Pang, 1975.
"John really thought about it at one point, and we were considering it early on in '74, just for the hell of it," said 57-year-old Pang, reached in New York. "Harry Nilsson wanted to be a part of it. We said, oh, that would be a good idea---a one-off, and we would do it in the fall. We were thinking about upstate New York, like Syracuse, because Ringo couldn't be in New York City. We were in the middle of a lawsuit and he didn't want to be subpoenaed."
The astonishing revelation is not in Pang's new book of snapshots and short reminiscences based on her time with Lennon, "Instamatic Karma" (St. Martin's), and was not in her first book about Lennon, "Loving John," published in 1983. She has not mentioned it in other recent interviews.
"It could just be that no one ever asked the question of her before: did John ever speak about reuniting the Beatles?" said radio host Piotrowski. "The remarks (to me) came so naturally and were so unrehearsed that I absolutely believe them. And, if she was just trying to sell the book, she would have put that information in there."
Asked why the report had not come out before, Pang said she erroneously thought she had included it in her first book, "Loving John."
"I thought I'd put it in there," she told The Rip Post. "And then people said to me, 'I don't remember reading that!' . . .But I think a lot of things were cut out. See, I wrote about 600 pages, and my co-author (Henry Edwards) was really the point man they went to. I was a novice, not the seasoned person. If I wanted something in, they didn't consult me. I may say it, but half the time it didn't go in. . .So in the end, I did not realize what was in or wasn't. But that was one of the things that I did talk about. I found my 600 page original manuscript, and I'm considering putting back stories that didn't make it the first time."
The disclosure rewrites Beatles history.
The group split up at Lennon's instigation in a chaos of recriminations between him and McCartney in 1970, following years of increasing disharmony involving the direction of the band's music, their Apple Corps business, and personal frictions. The pair subsequently engaged in public sniping, and feuded on their solo albums. They traded shots, for instance, with Lennon's "How Do You Sleep?" on the "Imagine" album ("so Sgt. Pepper took you by surprise. . .") and McCartney's "Too Many People" ("you took your lucky break and broke it in two.") Lennon let loose with a caustic rant in an interview with Jann Wenner that became chapter-and-verse history (the 1971 book, "Lennon Remembers") rather than the passing outburst it was.
The conventional thinking is that the ex-Beatles never resolved their differences in Lennon's lifetime, and that McCartney and Lennon in particular were in little more than rare telephonic contact at the time of Lennon's horrific murder in 1980.
Yet Pang, who spent almost two years with the Lennon in 1974-'75, and remained in contact with him to the end of his life, describes things very differently. McCartney, she said, was a very frequent visitor during her time with Lennon, who was also on good terms with George and Ringo. (A sloppy party jam session from the time with McCartney on drums and Lennon, Stevie Wonder, and others has long been bootlegged.)
"I saw all of them," she said. "We had three in one room in each instance. In L.A., it was John, Paul, and Ringo, and in New York, it was John, Paul and George. And you would never in a million years think that they had problems."
She described Lennon as feeling "sentimental" about The Beatles days, during her time with him. He was, she emphasized, at peace with his Beatle past, and the other Beatles.
"I think he was, absolutely. There was no animosity. We spent all this time with Ringo, you know. We went out to L.A., Ringo played on (Nilsson's) 'Pussycats,' John wrote a song for him ("Goodnight Vienna"), and then of course, we were with George in New York, and he said, 'If you need my help, I'll come out, I'll work with you.' He cared for his brothers. He was okay with all of them, including Paul."
Lennon's fond feelings for The Beatles are, in fact, probably hinted at in his song, "#9 Dream," from the number-one 1974 album that Pang coordinated and did art direction for, "Walls and Bridges." With lyrics including "So long ago/ was it in a dream/ I thought I could feel music touching my soul," the song is thought to have been a paean to his days with the band---certainly quite the flipside of the line, "I don't believe in Beatles" from "God" on the 1970 "John Lennon/Plastic Ono Band" album.
The reunion idea first came up in early 1974 conversation in Los Angeles during the period Lennon dubbed his "Lost Weekend"---the artistically productive 18-month separation from wife Yoko Ono, during which he caroused with friends, recorded "Walls and Bridges," "Rock 'n' Roll," produced Harry Nilsson's "Pussycats" album, and performed live with Elton John.
"We had been hanging out with Ringo a lot in L.A.," said Pang, who was Lennon's constant companion during the period. "And it just came out of conversation, hanging out: 'Oh, wouldn't it be great if we did this one gig,' and they'd start talking about it. 'Yeah, well, why don't we do this, and George would do that, and Paul. . .' So it was just thrown around, and everybody was like, well. . .let's do that."
Or, as she told radio host Piotrowski:
"It was early in '74 when it was discussed. (Quoting John) 'Maybe we could do it for Fall of '74.' And Harry Nilsson even said, "Oh, I want to sing", you know? But, obviously, certain things were not meant to be, as I would say."
A date for the reunion was never firmed up beyond the fall.
"Well, it was a time frame, not so much a date, but a time frame where they were thinking about it. It was, 'Yeah, we've got to talk to Paul, let's think about this.' Of course at that point, in L.A., Mal Evans was there (the Beatles' longtime, beloved "roadie," who was killed when he allegedly drunkenly aimed a rifle at Los Angeles Police responding to a call for help from his girlfriend), and Ringo. John always knew that if he really just sort of like focused in, it could probably be done."
What were the "logistics" that got in the way of what would have been one of the most historic events in music history?
"Everybody had other plans," said Pang, bringing to mind Lennon's famous line from his 1980 song, "Beautiful Boy:" "life is what happens when you're busy making other plans."
"Yes. Right. Exactly," she said. "Because nobody took the helm. If you really think about it, everybody had something to do. This would have taken four different heads, four different parties, to make it work. They were no longer under one roof, they were under four different roofs. Everybody had their own manager, or rep, or lawyer, or whatever else you want to call it. . . . It definitely was more about the timing. Everybody was everywhere. George was getting his tour together. Paul was getting ready for whatever he was doing, and Ringo was doing his album."
"Instamatic Karma" features a collection of snapshots mostly taken by Pang during her time with the ex-Beatle. The photos show a very happy and playful Lennon, Nilsson, Ringo, and various others who comprise a who's-who of rock 'n' roll, but the most historically important shot in the book is one showing John and Paul relaxing together in the back yard of Lennon's rented Santa Monica beach house in 1974. There are scant other known images of the two ex-bandmates together during the 1970's.


Rare photo (not by Pang) of
Lennon & McCartney reunited at John's rented Santa Monica beach house, 1974. Taken the same afternoon as Pang's photo in "Instamatic Karma," this was snapped by Keith Moon's assistant. Probably the last time John and Paul were photographed together. L to R: Lennon, Moon, McCartney, Linda McCartney. Note Lennon is holding a Polaroid---one of Pang's shots. That's her hand on his shoulder.
Click photo for larger image.
While that proposed reunion did not happen, there was one other opportunity. Lennon did consider writing with McCartney again, and in 1975 expressed a desire to join his ex-bandmate in New Orleans for a recording session. Pang remembered:
"In January of '75, after The Beatles had officially broken up, and John had signed the contract of the dissolution of The Beatles---he signed it at Disneyworld in the Polynesian Hotel---we were home in New York. We had Paul and Linda (McCartney) coming by, they were dropping in and out of our apartment quite frequently. And Paul mentioned to John, 'Oh, Linda and I are going to go down to New Orleans. . .thinking about going there to record an album.'
"And then, all of a sudden, John turned around to me one morning and he said, 'What would you think if I write with Paul again?' And I spun my head around like 'The Exorcist,' and I looked at him, and said, 'Write with Paul? I think it's a great idea.' He said, 'Why do you think it would be a great idea?' I said, 'Well, you know, the two of you, solo-wise, are good, but the two of you together, when you write, it's something special. Nobody can beat that team writing that you have. Look at all the Beatles' stuff. Look at all the stuff you've done.' He sort of sat back and said, 'Okay.'"
"Okay" as in he intended to do it?
"Okay in the sense of considering it in his head," Pang continued. "We talked about it, and he said, 'Let's go down to New Orleans. I've never been, and I'd like to go.' I said okay. Unfortunately, that didn't happen."
If it had, she believes it might well have turned into a Beatles session:
"I knew that if I got him down there, it would have started something. I knew that it was that close. I knew that he had already been itching for certain things. . .John was ready. He was just open for hanging out with Paul, at home---in New York, and L.A., but especially in New York. The two of them would pop up and visit all the time. We'd go out to dinner around the corner from where we lived, out for drinks, we were hanging out with them."
But it was not to be. In what was to be his last concert appearance, Lennon joined Elton John on stage at Madison Square Garden on Nov. 28, 1974, reconciled with Ono backstage, and the New Orleans trip never happened.
In a poignant and comical incident that plays like heavy-handed symbolism in a movie, one of the last times Pang saw Lennon and McCartney together happened one morning in heavy New York traffic, just weeks before the Elton John concert. Lennon had tried to contact McCartney by phone to set up dinner, but Paul was out. So John and May set out in a taxi to keep a business appointment, only to find themselves stuck in traffic.
"It was really quite funny because we were in the taxicab, I think on 60th Street, between 5th and Madison, and we looked over, and John goes, 'Oh my God.' . .And he looks in the cab next to him, and who's in the cab but Paul and Linda. And he rolls down the window, and he's yelling, 'Hey, Paul! We tried to get you this morning.' Paul says, 'We're on our way to see (I think it was) Lee,' his father-in-law. And John goes, 'Yeah, we're on our way to Capitol.' Paul goes, 'Maybe we'll have dinner later.' And now the taxis are moving, and the two guys are sticking their heads out, and our taxi went one way, and they went in a different direction."
Before Pang's report of Lennon's desire to reunite The Beatles, there were only a couple of indicators of his attitude on the subject. In a 1972 interview with then-KABC Eyewitness News reporter Elliot Mintz, Lennon said of a reunion,"It's quite possible, yes. I don't know why the hell we'd do it, but it's possible." In 1979, as part of an Apple Corps lawsuit against "Beatlemania," Lennon testified in a written statement that The Beatles still had an ongoing interest in their trademark, and might reunite to record some new music for a film autobiography.
The closest the band ever came to regrouping happened on the 1973 "Ringo" album on the Lennon-penned "I'm the Greatest," which featured John, George, Ringo, Billy Preston (organ), Klaus Voorman (bass.) (McCartney also performed on the album on two songs, making it the only post-Beatles album that included all four group members.) During the "Greatest" session in Los Angeles, Harrison allegedly suggested going on tour with that band configuration, prompting Lennon to respond, simply, "Are you daft?" While Lennon worked frequently with Ringo, and Ringo with Harrison, McCartney steered clear of his ex-mates in favor of his career with a new band, Wings.
There never has previously been a report of Lennon planning to become a Beatle again, prior to Pang's account. Any such thoughts or impulses seemed to fade, if not die outright, after Lennon went back to Ono, had a second son (Sean), and entered his reclusive, stay-at-home "house husband" period that ended with the release of the "Double Fantasy" album in 1980. In one instance during that time, McCartney dropped in unannounced at the Dakota, guitar in tow, only to have Lennon allegedly turn him away, saying he was busy, remarking, "It´s not like the old days, y´know - you can´t just turn up when you want."
The Pang revelation puts a different light on what ultimately became a sad story. As one longtime Beatles enthusiast put it, "It does my heart good to know that John and the others got along, and that John wanted to put the band back together. It takes a sad song, and makes it better."
It also arguably puts to rest any controversy lingering over the so-called "virtual Beatles reunion" of the mid-90's, in which the three remaining Beatles added music to three Lennon home recordings furnished by Ono (two of which were finished and released.) Bill King, longtime editor of the oldest Beatles fan publication in the United States, Beatlefan, explained:
"At the time of the 'Threetles' sessions, there was a segment of fandom and the critical community who dismissed what they were doing, saying, 'John wouldn't have been part of it if he was alive.' Pointing out that John himself had floated this reunion idea makes that argument pretty much invalid. I'm not sure John would have initiated a reunion, but if it had been for the purposes of the 'Anthology,' I think his earlier statement and Yoko's participation indicate he would have been part of it."
As for the reunion that "logistics" apparently prevented, Pang said there is no indication of what, if any, song titles Lennon might have been considering at the time "because we didn't get to that spot." And yet. . .
"Knowing him, I knew that he wanted to re-record certain songs for himself, you know? He always wanted to record 'Help!' again. He didn't like the version that went out. He wanted to do a much slower version."

Rip Rense has covered The Beatles for 35 years for many newspapers and magazines, and is a longtime contributing editor to Beatlefan magazine.
SIDEBAR: WHY DID LENNON CALL IT A 'LOST WEEKEND?'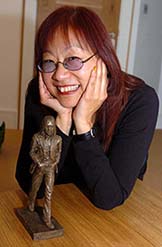 May Pang and friend.
Pang: "What do you say when you're sitting next to your wife, and people are asking you, 'What was it like being in L.A. and hanging out with your friends?' What is the politically correct thing to say at that moment? People forget the obvious. And the obvious is, he's sitting next to his wife. In fact, in most interviews, when John was asked that question, they also noted that Yoko was sitting next to John. What was he going to say? I had the best time? That was all out the window. It's an obvious, but nobody says it. In that year and a half that I spent with him, I think we did more work in his solo career than at any other time. Not only that, but he got his first number-one album with a number-one single. And on '# 9 Dream,' I'm glad that I was the one who was singing on there. That was my voice, which a lot of people didn't realize. It's not only that whispering (on the song, a voice whispers repeatedly, "John') but I also sing with him. In the new video (Yoko Ono) did to the song, she has her mouthing my voice! As I said, Milli Vanilli happens again. (Note: in the video done to accompany the re-release of "Walls and Bridges," Yoko indeed appears to speak Pang's whispered calls of "John.")

WHERE TO HEAR CASEY PIOTROWKSI'S FULL INTERVIEW WITH MAY PANG:
Excerpt:
Piotrowski: "Did John ever talk about the four of them getting together? Do you think it would have happened?"
Pang: "Yes. We did."
Piotrowski: "Wow"
Pang: "Absolutely. (Quoting John) Maybe we'll do one."
Piotrowski: "One song?"
Pang: (Quoting John) "If one comes around and it works, maybe we'll do another."
Piotrowski: "Yeah."
Pang: "But, yeah, we talked about it. And the first one that they talked about was early on, because it was early in '74 when it was discussed. (Quoting John) 'Maybe we could do it for Fall of '74.' And Harry Nilsson even said, 'Oh, I want to sing,' you know? But, obviously, certain things were not meant to be, as I would say."
Piotrowski: "It just never happened."
Pang: "It was just logistics. It was just a bunch of things going on at the time."
Cerritos College station: http://www.wpmd.org/ and. . .
WLNG - Nassau/Suffolk County, NY - Sundays 11 PM (EST) KKAY - Donaldsonville, La - Wednesdays 11 AM (EST) KBBS - Buffalo, Wy - Tuesdays 6 PM & Saturdays 5 PM (MST) KKLD - Cottonwood, Az - Sunday Noon (MST) WBUC -Buckannon, WV - Sunday Noon (EST) WAWK - Kendallville, In - Saturday 10 AM (EST) WABK - Augusta, Maine - Sunday 8 AM (EST) WAKY - Elizabethtown (Louisville), Ky - Sunday 11 AM (EST) KINY - Juneau, Alaska - Saturday 2 PM (AST) Thunder 103.9 - Crawfordsville, In - Sunday 1 PM (EST) KAGH - Crosset, Ar - Sundays 6 PM KOOL 98 - Mitchell, SD - Sundays 7 AM WKIP - Poughkeepsie, NY - Fridays 11 PM (EST) KBYG - Big Spring, Tx - Mondays 3 PM KIXX 106 5 FM - Batesville, Ar - Saturdays 10 AM & Sundays 9 AM KAAB - Saturdays 10 AM & Sundays 9 AM KCCC - Carlsbad, NM - Saturdays 10:30 PM KWME - Wellington, Ks - Sundays 11 AM WDOE - Dunkirk, NY - Saturdays 1 PM (EST) The Fox 103.1 - Jamestown, NY - Sundays 11 PM (EST) KIJV - Huron, SD - Saturdays 8 AM (MST) KWRW - Rusk, Tx - Fridays 6 PM (CST) The Q 92.7 FM - Burns, Or - Saturdays 6 PM (PDT)