Saturdee Opry Links # 121: Lockdown Edition

In view of present circumstances, today's better-known choices are intended to reflect the COVID crisis, and offer solace, even encouragement, to all.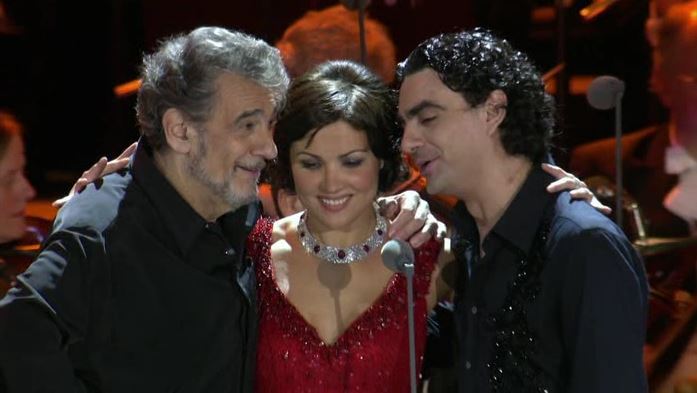 Placido Domingo, Rolando Villazon, Anna Netrebko


SATURDEE OPRY LINKS OVERTURE:
"La Forza del Destino," by Verdi. "The Power of Fate."
https://www.youtube.com/watch?v=OgKiuvWY1tg


1.
Saturdee Opry Links is sanitized for your protection! Trying to think of a theme, but the lockdown sort of overwhelms. First, a wrenching tribute to poor Italy, and especially the thirteen doctors who died from the virus. Many of them were old, or elderly, heroically coming out of retirement to help the sick, knowing full well that it could cost them their lives. Ti saluto! Here is Joseph Schmidt with the shattering Tosti song, "Addio."
https://www.youtube.com/watch?v=HHTJXei7J3w
"Falling leaf and fading tree,
Lines of white in a sullen sea,
Shadows rising on you and me;
Shadows rising on you and me;
The swallows are making them ready to fly,
Wheeling out on a windy sky.
Goodbye!"
Full translation:
https://www.lieder.net/lieder/get_text.html?TextId=37781


2.
For those, like moi, who have been periodically crying for little or no apparent reason. . . The old subconscious kicks in, doesn't it, in the name of relieving stress. Here is "Lascia ch'io pianga," from Handel's opera, "Rinaldo." "Let me weep over my cruel fate / and let me sigh for liberty."
https://www.youtube.com/watch?v=oJJnhp2CYnk
Setting: a garden in Argante's palace, Jerusalem, Palestine, during the Crusades
Synopsis: Almirena has been abducted by the sorceress Armida and imprisoned in the palace. She laments her fate.
Translation:
English:
Let me weep over
my cruel fate,
and let me sigh for
liberty.
May sorrow shatter
these chains,
for my torments
just out of pity.
Italian:
Lascia ch'io pianga
Mia cruda sorte,
E che sospiri
La libertà.
Il duolo infranga
Queste ritorte,
De' miei martiri
Sol per pietà.


3.
Enough tears for now. Time for an aria of triumph, which, of course brings to mind "Ha, wie will ich triumphieren" ("Ah, how I shall triumph!") from Mozart's racy-in-its-time "Abduction from the Seraglio." The baritone is Günter Wewel. This one is in "honor" of President Shitforbrains. Note translation:
"Ah, how I shall triumph
when they lead you to the gallows
and string you up by the neck!
I shall gambol, laugh and skip
and sing a little song of joy,
for then I shall be rid of you!
However softly and cautiously
you creep, you damned harem-mice,
our ears soon detect you
and before you can escape
you find yourself in our snare
and receive your just deserts!"

Setting: the seaside country estate of Pasha Selim
Synopsis: After Pedrillo, Belmonte, Blondchen, and Konstanze are captured trying to escape, Osmin sings of the delight that he will have when they are all hanged.
https://www.youtube.com/watch?v=VSrZ-Zwz_Sk
Full translation:
http://www.aria-database.com/search.php?individualAria=291


4.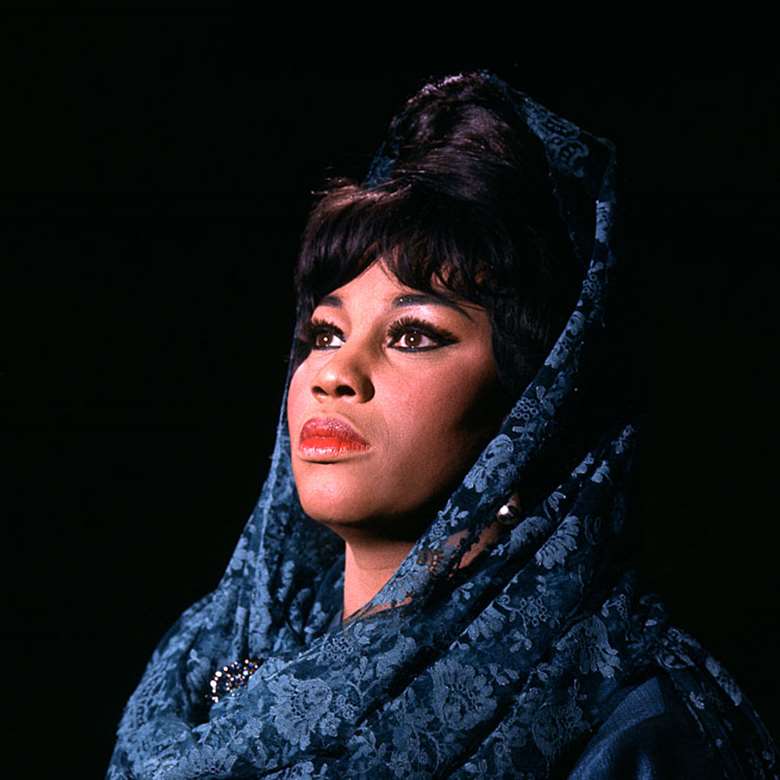 Another classic aria of triumph. . ."Ritorna, Vincitor," from Verdi's "Aida," here sung magnificently in 1966 by the great Leontyne Price. "Return, Victor!" No, not a request made to Victor Mature or Victor Frankenstein. Victor, as in "victorious one." Price really had no peer. I've never warmed to this aria---which is really an expository thing to serve plot development---but she draws me in.
Setting: A hall in the Palace of the Kings at Memphis.
Synopsis: Radamès, whom Aida is in love with, has just been given a rousing send-off to engage the Ethiopians in battle. Aida, daughter of the King of Ethiopia, slave of Amneris, is torn between her home-land, family and the man she loves - Radamès.
https://www.youtube.com/watch?v=G-W--M_VMIY
Translation:
http://www.aria-database.com/search.php?individualAria=5

About Ms. Price.
https://en.wikipedia.org/wiki/Leontyne_Price


5.
I grieve not? Can't say it's true, but it is something to which to aspire. Here is the tremendous Schumann song, "Ich Grolle Nicht," from his song cycle, "Dichterliebe" ("Poets' Love.) This guy was fooled by love, fooled by illusion, fooled by a woman, and now realizes it. "I grieve not!" The one and only Dietrich Fischer-Dieskau, baritone. The music, the melody, tell a story of strength, resolve.
https://www.youtube.com/watch?v=c5W3qGUa9XU
Translation:
https://www.lieder.net/lieder/get_text.html?TextId=36862


6.
"Don't cry, Liu," sings Calaf to the loving, devoted slave who begs him to stay away from the ice queen, "Turandot." But Calaf is smitten, drawn by forces even he does not understand. I listened to four or five versions of this, and while all were fine, there is something in Alagna's concert performance of the aria, from Puccini's "Turandot," that especially affected me.
https://www.youtube.com/watch?v=2lTr6WVBLtY
And this is great: the full sequence on stage, beginning with the lovely aria, "Signore, Ascolta" (in which Liu begs him to avoid the queen)---sung by Alagna's wife(!), Aleksandra Kurzak. With English subtitles. Note that Alagna is a bit more restrained, obviously having to budget his voice for the whole opera. Still tremendous. Do watch this:
https://www.youtube.com/watch?v=_EykQKHKP-M
Setting: The streets of Peking
Synopsis: After Liú begs him tearfully not to risk his life by playing a deadly game to win the Princess Turandot, Calaf responds to her gently, asking her not to weep.
Translation:
http://www.aria-database.com/search.php?individualAria=317

7.
Now, for perhaps obvious reasons, here is the Hebrew slave chorus, "Va Pensiero" ("Fly, my thoughts") from Verdi's "Nabucco." "Let me cry out with sad lamentation, or else may the Lord strengthen me to bear these sufferings!" This rousing piece is full of resolve and strength, expressing the slaves' determination to withstand and survive. Scholars have long credited the work---which was immediately embraced as a de facto Italian anthem---with helping to unite Italy under one flag. The power of music, eh? But there is more to the circumstances of the writing of "Va Pensiero." Talk about triumphing over travail, Verdi had just suffered the horrific loss of his beloved wife and children to various illnesses. He had sworn to never write another note of music, yet still had an obligation to write a new opera for La Scala. The director reportedly shoved the libretto (book) for the opera into Verdi's hand, imploring him to work on it, and when the great composer opened it later, the first words he saw were "Va Pensiero." He said he heard the words singing in his head immediately. At first rehearsal the stagehands shouted their approval, then beat on the floor and the sets with their tools.
https://www.youtube.com/watch?v=2VejTwFjwVI
English:
Fly, my thoughts, on wings of gold;
go settle upon the slopes and the hills,
where, soft and mild, the sweet airs
of my native land smell fragrant!
Greet the banks of the Jordan
and Zion's toppled towers.
Oh, my homeland, so lovely and so lost!
Oh memory, so dear and so dead!
Golden harp of the prophets of old,
why do you now hang silent upon the willow?
Rekindle the memories in our hearts,
and speak of times gone by!
Mindful of the fate of Solomon's temple,
Let me cry out with sad lamentation,
or else may the Lord strengthen me
to bear these sufferings!
Full translation, info:
https://en.wikipedia.org/wiki/Va,_pensiero

8.
Coraggio! Courage! Words we all need to hear today. . .Micaela is a young girl from a small village. She is in love with Don Jose, but he is beguiled by the temptress, Carmen. (And who wouldn't be!) Micaela goes into lonely, desolate mountains in search of Don Jose, never mind he has taken up with a band of smugglers. Suddenly, she finds herself alone, lost, and prays for courage. From Bizet's "Carmen," this is the tender, moving "Je dis que rien ne m'epouvante," or "I say that nothing can frighten me." The soprano is wonderful Angela Gheorghiu. Courage!
https://www.youtube.com/watch?v=i9Dnu5NaFmM
Translation:
http://www.aria-database.com/search.php?individualAria=41


9.
How have you been sleeping? Right, me, neither. No one sleeps! Sorry to drag out a "greatest hit," but it's appropriate. Perhaps the greatest aria of triumph and resolve in opera, "Nessun Dorma" ("No one sleeps!") is hard to resist. It's not my fault it's become a cliche. Here is Pavarotti in his prime. Sensational, of course. "Vincero!" ("I will win!")
https://www.youtube.com/watch?v=M3ecaM5UjAA
Setting: The gardens before the walls of Peking
Synopsis: A herald has just announced that no one will sleep in the city of Peking until the Calaf's name is known to the Princess. Calaf, who knows that he has agreed to be killed if Turandot learns his name before the morning, is not worried. He is sure that he will be the only one to reveal his name to the Princess and he will only do that once morning has come and the Princess has consented to be his wife.
Translation:
http://www.aria-database.com/search.php?individualAria=318


FINAL BOW:
It's important, need it be said, to unwind a bit in times of crisis. In other words, hit the bottle. (But not too much---got to keep your immune system up.) The great Placido Domingo, Anna Netrebko, and Roland Villazon give us the right reminder with, of course, "Libiamo, libiamo 'ne lieti calici," the drinking song from Verdi's "La Traviata." "Let us drink from goblets of joy!"
https://www.youtube.com/watch?v=IAg6RkFiYxI
Setting: A late-night party at the house of Violetta Valery
Synopsis: Alfredo is convinced by Gastone and Violetta to show off his voice. He sings (as this title suggests) a drinking song.
AND. . .
We get the bonus of a wonderful, and rather funny, performance of Franz Lehar's "Dein is Mein Ganzes Hertz" ("My entire heart is yours") from the operetta, "The Land of Smiles."
Translation (drinking song):
http://www.aria-database.com/search.php?individualAria=311
Translation ("Dein ist Mein Ganzes Herz.")
https://www.lieder.net/lieder/get_text.html?TextId=60079



Back to Opera Links