Saturdee Opry Links # 115:
Tribute to Gianfranco Altavilla
Today's edition of Saturdee Opry Links is dedicated to the memory of my dear friend, Gianfranco Altavilla, who passed away May 5, 2021.


Saturdee Opry Links Overture
"La Traviata," by Verdi.
https://www.youtube.com/watch?v=L0wrWVbi4Jk

Saturdee Opry Links EXTRA:
"Everything is beautiful, man! Everything! The weeds growing through the cracks in the sidewalk! The dwarf, the fat person, everything! I just-uh walk way down Bundy, where there is little house with cactus, huge-uh cactus. It bloom now---oh my God, man! You can't believe-uh how beautiful! You should-uh go look!" ---the late restaurateur and marble mason, Gianfranco Altavilla, who passed away last week. Today's trifling opera links are lovingly dedicated to him. Here is a column I wrote about him in the L.A. Times, long ago.
OPERA, CIGARS, CANDOR: WE ALL NEED A FRIEND LIKE FRANCO
https://www.latimes.com/archives/la-xpm-1994-02-11-vw-21873-story.html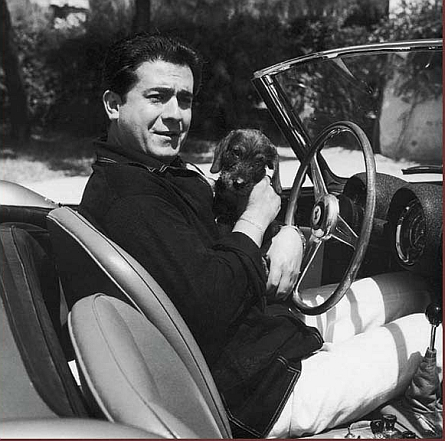 Giuseppe Di Stefano and friend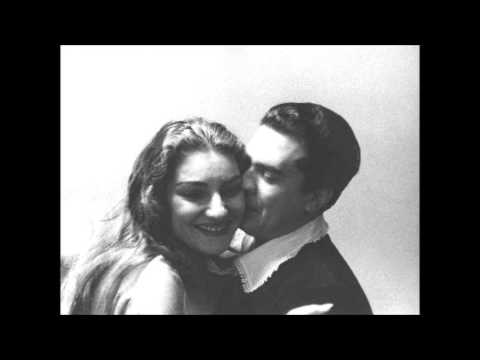 Giuseppe Di Stefano and friend 2. (Maria Callas.)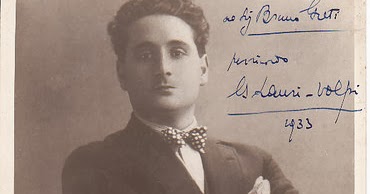 Giacomo Lauri-Volpi

1.
Giuseppe di Stefano was Franco's favorite tenor. Franco was in good company, as Di Stefano was also the favorite tenor of one Luciano Pavarotti. "Di Stefano is my idol," said Pavarotti. "There is a solar voice. It was the most incredible, open voice you could hear. The musicality of Di Stefano is as natural and beautiful as the voice is phenomenal" Here is Di Stefano at his best, with the immortal "Vesti la Giubba," from "Il Pagliacci," by Leoncavallo. "Put on the mask?" I think we can all relate. And tears, it should be added, are in order.
https://www.youtube.com/watch?v=3cYc5QCoYg4
Setting: The entrance to a village, Calabria, Italy, 1860s
Synopsis: Canio sings that, although his love has betrayed him and his heart is broken, he must go on and show a cheerful face to the world.
Translation:
http://www.aria-database.com/search.php?individualAria=595


2.
The story of Giuseppe Di Stefano is just so. . .Italian. It is the stuff of myth, of. . .yes, opera. He was born in a small village in Sicily, moved to Milano at age six, the only son of a cop who found it safer to be a cobbler. His mom made dresses. Di Stefano, educated in a Jesuit seminary, considered becoming a priest, but the lure of wine and women and card games---a lifelong Achilles heel---was stronger. At sixteen, Giuseppe lost a card hand, stood up, and burst into song, just for the hell of it. (Italian men, if you haven't noticed, love to sing.) One of the other card players, astonished, told him to get some training. That's how it all started, folks. Along came WWII, and he was drafted---but not even Mussolini could contain the De Stefano voice or personality. He turned out to be such a horrible soldier (one can imagine his free spirit not exactly fitting in) that his commanding officer kicked him out, saying he could better serve the country by singing. True! That was one enlightened CO. Here is the young Di Stefano with a very beautiful performance of the radiant aria, "Ah Fuyez, Douce Image," from Massenet's "Manon." "Ah, vanish, sweet memory, from my heart." Note: it concerns a young man with mixed feelings about the priesthhood---just as Di Stefano once was.
https://www.youtube.com/watch?v=PlqFS4oDtXk
Setting: The reception room in St. Sulpice church, France, 18th century
Synopsis: After entering the seminary in order to forget about Manon, Des Grieux finds that he is unable to forget his love for her. He prays to God to remove this shadow from his heart.
Translation:
http://www.aria-database.com/search.php?individualAria=614


SOL EXTRA!
As explained (see earlier SOL EXTRA!), today's SOL is dedicated to the memory of my friend, Gianfranco Altavilla. Some of you might remember Franco's restaurant in West L.A.. It went, over the many years of its existence, from an Italian deli, to an Italian restaurant---to an Italian opera restaurant, "Gianfranco's Ristorante All'Opera." Franco redesigned the interior into a glittering opera wonderland of vintage posters, red velvet drapes, even marble busts of operatic composers---the exterior with glorious murals depicting the great operas---and a stage hosting live performances (members of L.A. Opera and Opera Pacific!) every weekend! There was also a big screen, with complete operas screening Mondays, "Voices of the Century" on Thursdays. It was a magical, bustling, vivacious, and most of all joyous, place. I was fortunate to work with Franco for about six months on organizing the opera presentations, but really, my great joy was to join him at his table, drinking chianti, and discussing the woes of the world. I would give anything to do it again. But. . .I digress. Here is an L.A. Times article about the man Franco hired to paint the opera murals.
https://www.latimes.com/archives/la-xpm-1994-11-27-we-1899-story.html


3.
Here is another example of the lustrous voice of Franco's favorite tenor, Giuseppe Di Stefano. No, this is not a gigantic voice that, as a friend of mine said hilariously, "tries to eat the world"---rather, it is a lyric tenor imbued with lovely natural tone and ardent phrasing. It has been described, even, as "soft." From Wikipedia: Di Stefano had a warm and rich timbre and, at least in the early years, was very expansive. He was admired for his vocal skills, clear diction, passionate phrasing, captivating interpretation and the exquisite lightness of pianissimo and shades. Far from the studious precision and 'aplomb' of a Bjorling or a Kraus, or the vocal overpowering of a Del Monaco or stylistic rigour of a Bergonzi, Di Stefano had a natural musicality, with a generous, instinctive and communicative style of singing." If that's too much information, my apologies. Here he is in 1950 with the curvaceous melody, "M'appari" ("Lovely vision") from "Martha," by Flowtow.
https://www.youtube.com/watch?v=mMXsNYR9bnM
Synopsis : After meeting Lady Harriet the night before disguised as "Martha", Lionel sees her again with the ladies-in-waiting for Queen Anne. He is struck again by her beauty and grieves that he will probably never be with her again.
Translation:
http://www.aria-database.com/translations/martha15_mappari.txt


4.
As is well known, Maria Callas's tenor of preference was her (briefly) former lover, Giuseppe Di Stefano. They were simpatico on and off stage, great friends through their respective triumphs and tragedies. You know the basic story: Callas's voice died too early, and Di Stefano compromised his with smoking , drinking, being boisterous, "womanizing." Still, so beloved were they that a world tour in 1972-73---when neither had anything approaching a passable voice---was a sellout, with audiences enraptured. True. Here they are in 1955, both in wonderful fettle at La Scala, with the lilting, poignant, "Parigi o cara," ("Paris, my dearest") from Verdi's "La Traviata."
Synopsis: The lovers, Violetta and Alfredo, kept apart by family and circumstance, are reunited on Violetta's death bed. They sing nobly of leaving to start a new life in Paris.
https://www.youtube.com/watch?v=pN86eWzofe4
Translation: https://www.opera-arias.com/verdi/la-traviata/parigi-o-cara/


5.
Franco liked all, or most, tenors---and deeply loved opera. We would sit at his table in his teeming, cacaphonous restaurant while opera selections were piped in over the sound system, many a night, and he would suddenly stop talking, point upward (to where the speakers were), and say, "Listen! That's Schipa!" Or "That's Lauri-Volpi!" Or "That's Lanza---incredible!" And we would sit in silence until the selection ended. . . Giacomo Lauri-Volpi---also revered by Pavarotti---sang well into his 80's, and ably. His story is also. . .operatic. Born in the Roman town of Lanuvio, he was orphaned at age eleven. Somehow, the boy soldiered on in school---including vocal studies---and later, as a soldier in WWI. He wound up one of the most decorated in the entire country, but went on to---lucky for us---an operatic career. A star career in Italy led to his being a leading tenor at the Met from 1923 to '33, all of 307 performances. A real iron man. Here he is with the tender, "A te, o cara" from Bellini's "I Puritani." Note: Hey! it's the old penny-on-the-needle-arm trick!
Setting: In the Hall of Arms in the fortress near Plymouth, England, during the English Civil War (1649)
Synopsis: Lord Arturo Talbot enters the Hall with squires bearing presents, including a beautiful white veil, for Elvira Walton, his bride to be. He sings of the impossible love he always had for her.
https://www.youtube.com/watch?v=cliEsw2Vg3M
Translation:
http://www.aria-database.com/search.php?individualAria=835


6.
Gianfranco "Franco" Altavilla, was from the ancient town of Oria, on the heel of the "boot" of Italy. Founded by the Messapians hundreds of years before Christ, it has a long and tumultuous history, and today is part of the province of Brindisi. Brindisi? Brindisi? There's a cue, if ever there was one! Here is the "brindisi," or "drinking song," from Verdi's "La Traviata," Just for fun---you remember fun---here is a flashmob performance at the Ferry Building in San Francisco. Talk about music making people feel good. . .
https://www.youtube.com/watch?v=bTbmGVEj53E
And for those purists, here are Diana Damrau and Juan Diego Florez on stage at the Met.
https://www.youtube.com/watch?v=afhAqMeeQJk
Setting: A late-night party at the house of Violetta Valery
Synopsis: Alfredo is convinced by Gastone and Violetta to show off his voice. He sings (as this title suggests) a drinking song.
Translation:
http://www.aria-database.com/search.php?individualAria=311


SOL EXTRA!
It was back in the mid-'90's when Franco went back Italy, to his home town of Oria, where he had learned marble masonry and sculpture. In his absence, he left the wonderful head waitress, Lupe (never knew her last name), and his son and daughter in charge---with me in charge of the opera events that I had founded, organized, promoted. So I put together the first and still only Los Angeles tribute to the great Mario Lanza, one of Franco's favorite tenors. We hired a tenor who was doing a one-man Lanza show, Charles GaVoian, and a superb soprano, Suzan Hanson---and other singers---doing live performances, plus a video compilation of Lanza's greatest moments (produced for the occasion), and special guests including his daughter, Colleen Maria Lanza, his great friend and confidante, Terry Robinson. There were two shows nightly over one weekend, Friday included, and they all turned people away. Audience members stood and sang (some shouldn't have), and we even had to remove a lady who, in extra high spirits, hiked up her skirt and put their legs on the table top. We brought out extra tables and chairs, and undoubtedly packed the place to illegal capacity. It turned out to be the most profitable weekend the restaurant ever had. Lupe broke out the champagne. I was so happy and proud to give this gift to Franco, when he returned. Here is the restaurant, and the four murals done by Franco's childhood friend, Giovanni Polumba (see previous EXTRA.) The murals are, from left: "Cavalleria Rusticana," "Il Pagliacci," "Rigoletto," "La Boheme."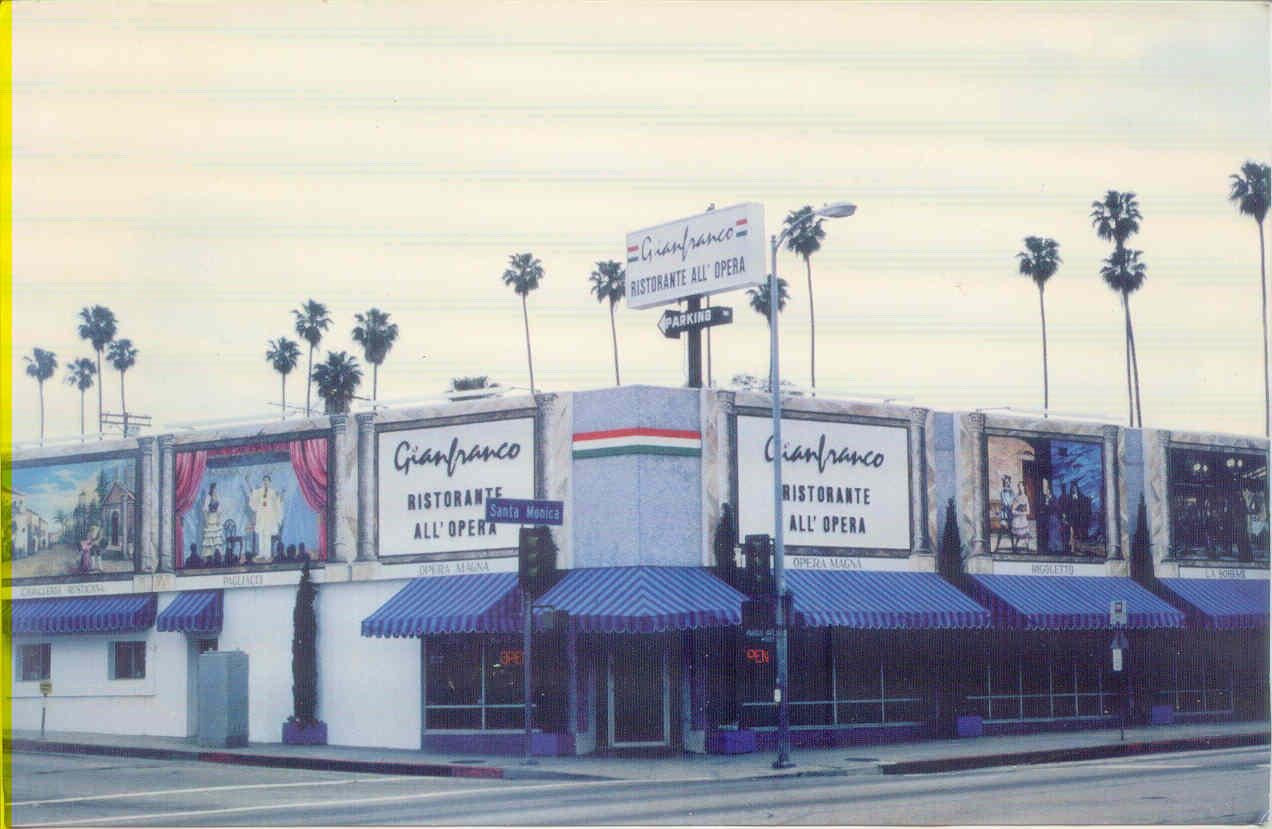 7.
After the EXTRA about Mario Lanza, had to follow up with the real deal. Franco will soon return to his home town of Oria, this time forever. Here, Lanza---another of the great man's favorite tenors---sings the great Ernesto de Curtis Neapolitan song of returning to Italy, "Torna a Surriento."
And you say: "I'm leaving, goodbye!"
you're walking away from this heart,
from this land of love:
do you have the heart not to return?
https://www.youtube.com/watch?v=5fEld8UNi60
Translation:
https://en.wikipedia.org/wiki/Torna_a_Surriento


8.
Gianfranco Altavilla was a brilliant guy. His comments about humanity, the awful state of the world (far better in the mid-90's, when I spent time in his company) were incisive, spot-on. He used to say how much he missed working with marble, because it was an art, private, and you didn't have to deal with people all the time. And yet, despite his self-effacing personality and modesty, he loved humanity---well, the best part of it, anyhow. He couldn't suffer pomposity, fools, pretense, and cruelty, but had enormous compassion for those in need. I was trying to think of an aria that he would have especially loved to have sung. I came up with "Un di, al' azzuro spazio," from "Andrea Chenier," by Giordano. In this scene, the poet, Chenier, is essentially asked to be a performing monkey and recite verse for gathered aristocracy. Instead, he denounces them, exalts the beauty of nature, and condemns the pose and evildoing of human beings. Here is an absolutely transcendent performance by Luciano Pavarotti, live at the Met in 1996. With English subtitles.
https://www.youtube.com/watch?v=41Xndjshhw4
And here is a goddamn mighty home recording of the same aria by Mario Lanza.
https://www.youtube.com/watch?v=gEHittE-gLo
Setting: The Ballroom in the Coigny's château
Synopsis: The Countess has asked Chénier to recite a poem but he refuses until Maddalena asks him. He contrasts the beauty of nature with the misery created by man. He denounces those in authority as self-serving.
Translation:
http://www.aria-database.com/search.php?individualAria=49


SOL EXTRA!
Before the homeless became a city-state in California, and was still "just" a scattered problem, the late Gianfranco Altavilla took it upon himself to care for many of the tragic people living near his restaurant in West Los Angeles---notably one fellow, Tim. He didn't have to do this, of course, but he could no more refuse to do it than breathe. This is that remarkable story. Sorry for the small type. It ran in the L.A. Times, but I couldn't find a link to that version.
http://www.riprense.com/Tim.htm


9.
"Va Pensiero" is the "Chorus of the Hebrew Slaves," lamenting their endless wandering, persecution, from Verdi's "Nabucco," but many scholars say that it became a de facto national anthem, helping to unite Italy as one country (which finally happened in 1871.) In any case, this subtle piece is deeply moving, inspiring, comforting---and thoroughly Italian. I can't hear it without thinking of Franco, and, as he prepares to go home to Oria, I offer it as a kind of recessional hymn, in his memory.
Fly, my thoughts, on wings of gold;
go settle upon the slopes and the hills,
where, soft and mild, the sweet airs
of my native land smell fragrant!
https://www.youtube.com/watch?v=GS6L_9xUT5E
About, translation:
https://en.wikipedia.org/wiki/Va,_pensiero


FINAL BOW:
Today's Gianfranco Altavilla edition of Saturdee Opry Links ends with the hellish thing that is goodbye. Yet the spirits of such potent beings as Franco do not leave; they remain, continuing to guide and offer the love they did when manifested in human form. And in this way they live on, generation to generation, secreted in memory, DNA and, yes, song. And so I say addio, caro amico, or, as I hear your voice now, at the end of a long day at the restaurant, "Buona Notte." Dormi bene.
https://www.youtube.com/watch?v=YW-RMQLWDG0
Translation:
https://www.lieder.net/lieder/get_text.html?TextId=37781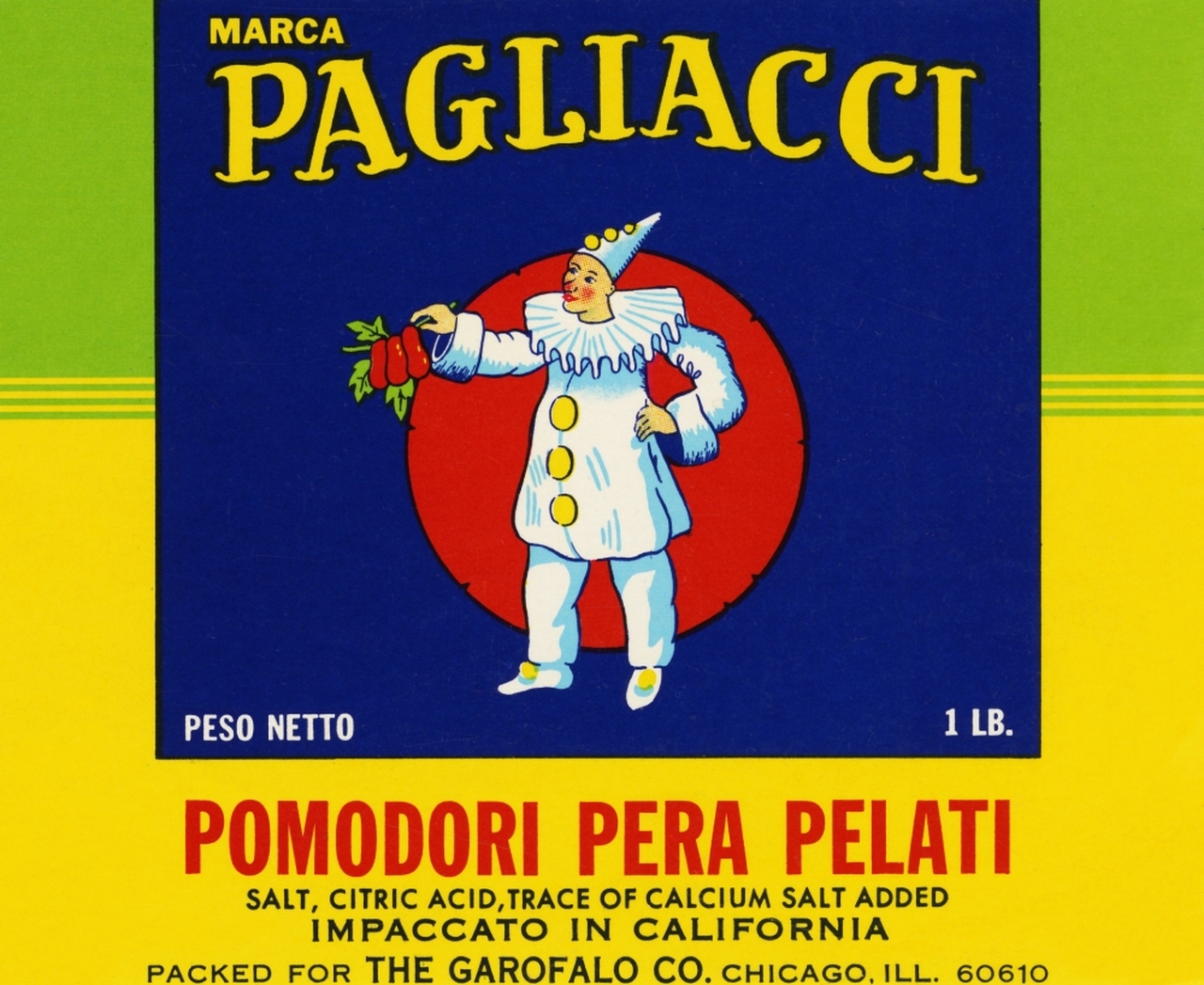 Back to Opera Links