'THREETLES' REUNION SONGS UPDATES:
NEW 'FREE AS A BIRD,' 'REAL LOVE' MIXES. . .
BUT WHERE IS 'NOW AND THEN'?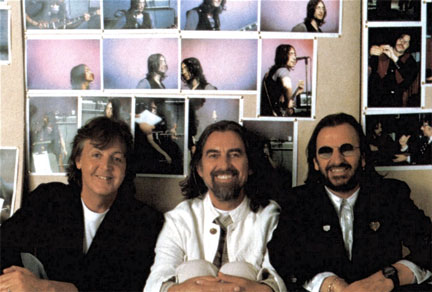 John, Paul, George Ringo.

By Rip Rense
© Rip Rense/The Rip Post 2016 all rights reserved.


A new Beatles song was released on "Beatles 1"---actually two---but no one seemed to notice. The songs: "Free as a Bird" and "Real Love," in completely new mixes by Jeff Lynne, accompanying the videos for each.
Ah, so what's special about a new mix? That doesn't make the songs new. And yet, in this case, it really does.
"Free As a Bird," the 1994 "reunion" song done by the so-called "Threetles" using a John Lennon home demo on cassette, was widely slammed. Lennon's voice was "ghostly," obviously taken from an inferior sound source, and did not meld with the others. He sounded slightly more present in the studio than Stu Sutcliffe.
And what of Ringo's drum fills, such a characteristic part of any Beatles song? Mixed down and blurry. What's more, producer Lynne had Ringo bash the snare alone to a click track, killing his behind-the-beat drumming personality in the process.
True, the song had winning new lyrics from Paul McCartney, stellar guitar work by Harrison (including a solo based directly on Lennon's scat-singing on the cassette demo), lovely harmony vocals and a dash of whimsy in the form of a ukulele vamp "outro." But in the end, it sounded like a cobbled-together pastiche. Well-intended, touching, but not quite. . .The Beatles.
No more.
Lynne has fixed the Lennon vocal. John sounds as if he is in the studio, singing with Paul and George. Ringo's drum fills have been mixed up and now have clear and meaningful presence, as opposed to the near background noise they were. And to give things a bit of variety, George's solo vocal has been changed to a different take in which he sings "love" instead of "life" in "Whatever happened to the life that we once knew?"
The result: this new mix feels like The Beatles. It has lost most of the pastiche quality, at least to these ears, and sounds of a piece. Well done to Lynne. (Note to producer: the song could now really benefit from a great string arrangement. It would get the kind of Beatle-esque George Martin-esque "finishing touch" that feels lacking. Hint.) The same is true to a lesser extent with the lesser reunion song, "Real Love." The mix is stronger, Lennon is more present, and Lynne has restored a number of fine Harrison guitar fills that were mixed out of the original. The net effect is an improvement.
The problem with "Real Love" remains what it has been all along: it's a trifle of a tune, a sweet-sounding ditty. This "ditty" factor was only heightened by the fact that Lynne and the "Threetles" speeded the track up to make it a bit more uptempo. When you listen to the original demo, or superior original demos (with more lyrics!) of the same song, you cringe at the reflective ballad that was sacrificed here.
Which brings up the real problem with the reunion sessions: Yoko Ono's choice of songs. Why George, Paul, Ringo did not ask to go to the Dakota and listen to everything available is well beyond me. Out of the dozens of home recordings, demos---complete and incomplete---that existed, Ono selected "Real Love," which had already been released as part of the "Imagine: John Lennon" soundtrack, "Grow Old With Me" (rejected by the "Threetles"), which had already been released on the John/Yoko "Milk and Honey" album, "Free As a Bird," and a fledgling song referred to as "Now and Then," "Miss You," or "I Don't Want to Lose You" (as Ono dubbed it in a short-lived musical, "Lennon," that closed six-weeks after being dubbed "Ono-centric" by critics.) Harrison rejected "Grow Old With Me" as being too sad to deal with, and also vetoed "Miss You" reportedly due to disgruntlement over bad reviews of "Free as a Bird" and "Real Love."
It seems all but certain that if Harrison, McCartney, Starr (and possibly George Martin) had listened to everything available, that not one of the works given to them by Ono would have been chosen. Just knowing that the more reflective, expansive version of "Real Love" was bypassed is disappointing enough, but when you add to the list such gems as "India, India," a ballad written in 1968 with wonderful words, or the deeply moving, poignant, "Memories," it's heartbreaking to think of what was missed. Perhaps Ono was unaware of these songs at the time. And if previously released Lennon songs were fair game, I've always thought that the anthem, "Nobody Told Me" might have gotten a terrific treatment and arrangement by the "Threetles." Just strip off the studio musicians, and add Beatles till done. . .
What's done is done, and yet the many demos Lennon left behind still remain. . .left behind. Why not use some of them as the basis for "finished" versions by musicians who knew and worked with Lennon? Including Paul and Ringo? I see no harm in it whatsoever.
Which brings up, speaking of things left behind, the last reunion song, "Miss You." Where is it? How finished is it? Will it be released?
When I interviewed Lynne about the song in 2005 for the Washington Post, he said this:
"It was one day--one afternoon, really--messing with it. The song had a chorus but is almost totally lacking in verses. We did the backing track... a rough go that we didn't really finish. It was sort of a bluesy sort of ballad, I suppose, in A minor. It was a very sweet song; I liked it a lot, and I wish we could have finished it."
Longtime Beatles engineer Geoff Emerick, who also worked on the sessions, told me this: "It would be nice to get it finished. Paul's up for it. . .The chorus is great... it would make a great record."
McCartney has remarked on a number of occasions that he would like to finish the song and release it. I have confirmed through a source that McCartney gave the partially completed track to producer David Kahne (who handled McCartney's well received "Memory Almost Full" album), and that Kahne worked on it. And now comes this new comment from Lynne in the April, 2016 issue of Uncut Magazine:
"We put a few instruments down and Ringo added a harmony on it. I did a couple of big edits on it. Paul liked it, I liked it. But George didn't like it, so we didn't carry on."
This sounds like much more than a day's work, never mind that extensive preparation that would have been done to the original Lennon cassette to make it suitable as a track. Given the further work by Kahne, and McCartney's statements about wanting to release it, it sounds as if "Now and Then" is effectively finished. (And, from what one listener who has heard the work-in-progress said, it bears no resemblance to the various fantasy completions floating around Youtube.)
Why, then, has it not com out? One highly dubious rumor is that Paul has set it aside to be issued after his passing. It seems unlikely that Olivia Harrison or Yoko Ono would stand in the way of the world receiving one last new Beatles song, never mind Ono's statement to me in 2005: "I sent those songs to them when the situation was quite different. Now that George is gone, I don't know if the same would apply. I will consider the possibility, that is, when I get the call."
If some justification or occasion is necessary, there is always the 25th anniversary of "Free As a Bird" in 2019, when Lynne will no doubt create that special "FAAB" edition with an added string arrangement. Right, Jeff?