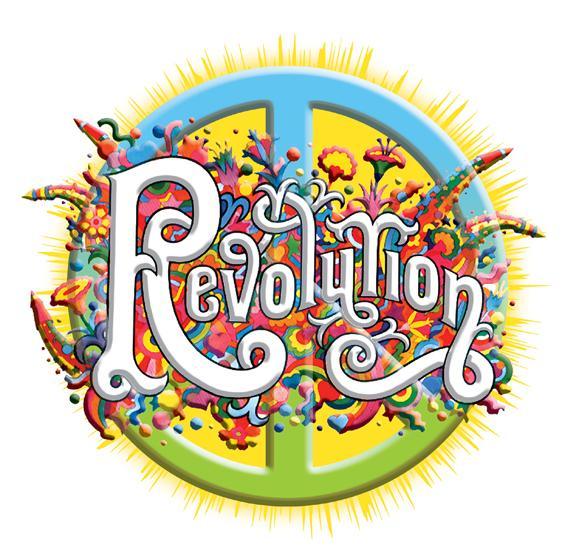 Illustration designed in 1968 by Alan Aldridge for "The Beatles' Illustrated Lyrics."
SAY YOU WANT A (new) REVOLUTION?
by Rip Rense
(March 3, 2009)
copyright 2009 Rip Rense, all rights reserved

The recently leaked ten-minute-plus version of The Beatles' "Revolution 1," with various vocals and avant-garde effects added by the group and Yoko Ono, is not only the most important Beatles musical revelation since "Anthology" in the mid-'90's, but hard proof that there is more fabulous material to be mined from original session tapes.
The track, possibly a copy of a rough mix that Lennon took home after the June 4, 1968 session, sounds just as renowned Beatles authority Mark Lewisohn described it in "The Beatles Recording Sessions:" 10:17 long, with additional George/Paul vocals of "Mama. . .Dada" repeating many times during the fade-out. This was take 18, the same as was edited down for the "white album," marked by what Lewisohn calls "pure chaos" in the last six minutes, with:
". . .discordant instrumental jamming, plenty of feedback, John Lennon repeatedly screaming 'all right,' and then, simply, repeatedly screaming, with lots of on-microphone moaning by John and his new girlfriend, Yoko Ono, with Yoko talking and saying such off-the-wall phrases as 'you become naked' and with the overlay of miscellaneous, home-made sound effects tapes."
It is, Lewisohn says, "riveting," and no further accolade is necessary. The track is a lost gem. (Even in the profoundly unlikely event that this version has been miraculously simulated with tape looping and fake vocals, it still would remain a winning demonstration of the worth of releasing the long version of the song.)
Not only is "Revolution 1-A," as some are labeling it, first-rate listening, but it is a missing puzzle piece in a picture of an increasing creative schism between Lennon and McCartney, and factionalizing of the band. The first song undertaken for the "white album," "Revolution 1" (called "Revolution" until the single version was recorded) precipitated tension, disappointment on Lennon's part, even a minor showdown between John and Paul (described by former engineer Geoff Emerick in his book, "Here, There, and Everywhere.") It has, in short, an amazing history.
First, the ten-minute session of May 30, 1968, was, not surprisingly, rejected for consideration a single, due to length. As if that wasn't enough, the (fabulous!) 4:12 edited mix was also later nixed as a single by Paul and George for not being "upbeat" enough (gasp---it would have been a hit.) This led Lennon to (angrily?) remake "Revolution" a month later, as a shockingly gritty rocker for half of what is probably the most famous single in music history: "Hey Jude/Revolution" (minus the winking "shoo-be-doo-wop" vocals of Paul and George.) Even lack of chemistry and cooperation yielded creativity in this remarkable band.
There is also substantial Beatles history wrapped up in the so-called "1-A." Much to the puzzlement of Paul, George, Martin and others present, the recording marked the first time that Ono joined a Beatles session, a habit she maintained until the group broke up. What's more, "1-A" certainly marked the emergence of her heavy influence on Lennon---in terms of social activism in the startlingly direct, political lyrics, and the nifty avant-garde pastiche over the song's last six minutes.
Further, it exposed and defined a growing creative rift between Lennon and McCartney that led them to record very much apart during the "white album" sessions. Lennon wanted no more of Paul's bouncy melodies and music-hall influenced ditties (which he referred to derisively as "granny songs"), instead pushing to move the group in a more hard-edged, experimental direction---to be evidenced by such "white album" works to come as "Yer Blues," "Happiness is a Warm Gun," and most spectacularly, "Revolution # 9." (And McCartney acceding with "Helter Skelter.")
The titanic "Rev. # 9," easily the most controversial of all Beatles compositions, grew entirely out of "1-A." Lennon, hooked on the sheer fun of creating sound sculpture from eclectic noises, spoken quotes, musical bits played backwards, etc., set about expanding the work done during the last six minutes of "1-A" until it became its own highly ambitious, ever-growing piece of musique concrete. At one point, he and Yoko famously commandeered three separate studios in Abbey Road (while McCartney recorded "Blackbird" alone in another), gleefully and artfully mixing tape loops and recording new passages through the night. The only Beatle present in those sessions was dry-witted George, who must have enjoyed the subversive absurdity of taking turns with Lennon in speaking such random phrases as "financial imbalance," "the Watusi," "onion soup."
This work, which has few peers in recorded popular music (see: Frank Zappa), and easily holds its own with "serious" pieces by avant-garde composers such as Edgard Varese and Karlheinz Stockhausen,* spurred the first of several nasty "white album" spats between the two highly creative, talented, impassioned young Beatles. As Emerick revealed, when John proudly played "Rev. # 9" for Paul, the response was an underwhelming, "Not bad"---sending Lennon into a tirade about how avant-garde music was what The Beatles should be doing, and that "#9" should be the band's "next bloody single!" (Now, that would have been fun.) One wonders if the subsequent, seemingly endless takes of Paul's "Obla-di, Obla-da," which drove the other Beatles nuts, were, in part, McCartney goading his estranged writing partner. (That song was the cause of a very colorful confrontation in which a heavily stoned-on-heroin Lennon burst into the studio, pounded a fanfare on the piano, declaring, "This is how the fucking song should go!" And that became the piano intro.)
So the importance of "Revolution 1-A" is immense. It not only spurred the creation of "Revolution 1," "Revolution," and "Revolution # 9," but it helped to define the increasingly divergent musical priorities of Lennon and McCartney at a critical and transformative moment in the band's career.
Why it was not later included on "Anthology" is unfathomable, unless it was a casualty of too many cooks---or held back for a future release (a bonus track on the forthcoming remastered albums?) There is simply no conceivable sound argument against releasing "1-A" today. What's more, it is so important among Beatles recordings that it merits more than presentation as a "scrap," outtake, or historical footnote.
It demands formal production, completion.
I submit that this song is a compelling, if not irrefutable argument that whatever remains on Beatles session tapes---alternate versions, longer takes, discarded experiments---should not necessarily be released "as is," but would often be better served by further production (preferably by George and/or Giles Martin.) "Revolution 1-A," for instance, lacks producer Martin's horn arrangement and guitar parts by Lennon and Harrison heard in "Revolution 1." Why not incorporate them into any released version of "1-A?" Why leave it trivialized as an incomplete outtake? I would even argue for the inclusion of two tape loops made for, but not used in the track: all four Beatles singing "ahhhhh" in upper register, and a manic, high-pitched guitar figure. The "Anthology," project, after all, included a version of "Yellow Submarine" with many more sound effects than were used on the original version, and discarded spoken word introduction! (Released on the "Real Love" EP.)
For those who suggest that such new production work be meddlesome, even disrespectful of the band or history, there is ample precedent. Martin and the "Threetles" presided over entirely new edits and mixes of "Strawberry Fields," "Here, There, and Everywhere," "Yes it Is," and various other tracks for "Anthology." Some of the edits were made to show the evolution of a song, others stand as solid, viable new versions in their own right. And then there is "The Beatles Love," with its complex and clever mash-ups, some of which also stand as alternate versions in their own right: notably the brilliant "Tomorrow Never Knows/Within You Without You," and what was effectively an entirely new Beatles release---the exquisite solo acoustic rendition of Harrison's "While My Guitar Gently Weeps," with brand-new (and rather magical) orchestration by George Martin. (The truncated "Hey Jude" also is a nifty "new" version, with the neat trick of eliminating all but the "na-na" chorus vocals during the famed fade-out, then phasing instruments and orchestra back in.)
"Revolution 1-A" deserves no less attention. Present it as it might have been, spiffed up with all parts included. If you're going to release such a wonderful rarity, why not give it a proper sendoff?
In fact, this situation argues in favor of re-thinking the remainder of The Beatles' unreleased recorded legacy. Why think in terms of new releases---albums---being "Anthology"-like compilations of leftovers, outtakes, scraps? Why not think in terms of restoration, to the extent possible? Why not think in terms of a new album or two--- viable albums that take their artistic places in the Beatles canon---with reconstructed, embellished, restored alternate versions of songs? Why not enhance the legacy in this fashion? Let purists complain. Fans would love it, and critics would be able to evaluate on the basis of both historical importance and aesthetic value. Instead of listening to "what might have been, but wasn't," they will hear "what might have been, and now is."
Is it possible? Sure. A scroll through Youtube.com reveals all manner of Beatles demos that have been "finished" by well-intentioned amateur musicians trying to simulate a Beatles sound (as well as solo Beatles songs with fake Beatles-esque back-up.) But this is not to suggest anything so informal or crude, or that new musicians be hired to "play like the Beatles." Never. That would be ridiculous. There are ways to proceed that would preserve The Beatles' musical integrity, while adding to the music. The rules: work with existing materials only, except when George Martin---or a composer endorsed by the four Apple parties (Paul, Ringo, Yoko, Olivia Harrison)---is employed to write a new arrangement.
How successful could such a venture be? Only a careful listen to the material left on sessions tapes would give a definitive answer. Yet even without this data, enough is known---from Lewisohn's book, bootlegs, and leaks---to posit a pretty tantalizing example, consisting, in this case, chiefly of "white album"-era recordings. (Dipping, on occasion, into "Anthology" or "Love" versions, and once into the "Get Back" sessions.) Call such an album "Off White," or perhaps use either of the titles rejected by The Beatles for the "white album:""Revolution," and "A Doll's House." Use the cover originally drafted for the "white album," by famed artist, "Patrick." Here it is:
Child of Nature---This is the famed 1968 acoustic demo that did not make the "white album" cut---Lennon's plaintive, poetic paen to India and meditation (that he reworked as the inferior, in my opinion, "Jealous Guy," in 1971.) Paging George Martin! Take one of Lennon's two lead vocal lines, isolate it (amateurs have done this on Youtube), and add orchestration. Voila. Beautiful new ballad. No, the vocal is not studio quality, but this could work perfectly well. After all, if Martin's arrangement for Lennon's solo "Grow Old With Me" worked, which it did beautifully, why wouldn't this? Sir George has already orchestrated solo McCartney Beatles songs ("Yesterday," "Mother Nature's Son"), solo Harrison ("While My Gently Weeps") and solo Ringo (written by John), "Good Night." Why not John?
Hey Jude---There is a fabulous take of the song (not the one on "Anthology") that is slightly more brisk than the released version, with first-rate lead vocal by McCartney and crisp, sharp drumming by Ringo. It holds its own with the official version, but lacks harmony and chorus vocals. Add them from the final version, do some clever phasing out and in of vocals/band/orchestra a la the "Love" version, and you've got a substantially different---and magnificent---version. Lewisohn reports that several fine takes of the song with Harrison on electric guitar exist, and they certainly would also merit consideration. (Especially if Harrison is playing echo-lines, which McCartney famously rejected, as opposed to rhythm.)
Sour Milk Sea---This is perhaps a dicier prospect. This Harrison song was written and demoed during the "white album" period, but then given away to Apple artist Jackie Lomax, who recorded it with a band consisting of Ringo, Paul, George, Eric Clapton, Nicky Hopkins. Remove the (excellent) Lomax vocal, and substitute George's from the acoustic demo. Would it work? I've heard an amateur attempt that sounded fair. With studio wizardry, I'm betting this would succeed. (Doesn't hurt to try.) And who knows---maybe there is a studio quality vocal run-through in the Harrison "vault."
Goodbye---Do essentially the same thing with this glorious little Paul McCartney tune, made an Apple hit by Mary Hopkin. Paul produced, arranged, and played on the Hopkin session, so if you take her vocal off and add his demo vocal, it's no different from other "white album" era Beatles tracks that featured one Beatle. Would this technically work out? Proof is in the trying.
I'm So Tired---There is a bootlegged take of this Lennon song with lots of echo-guitar lines, presumably by George, substantially changing the overall feel. It's great.
While My Guitar Gently Weeps---Not everyone has heard the tremendous new version with acoustic guitar and Martin strings from "Love." Give it a home among its peers.
Obla-di, Obla-da---There is an earlier version on "Anthology 3." Use that one or one of the other innumerable takes. For those who despise this song, apologies.
Circles (aka "Colliding Circles")---Another Harrison demo for the "white album" that did not make the cut. George accompanies himself on the organ on this heavyweight philosophical utterance. Again, calling George Martin (or Jeff Lynne)! Take Harrison's vocal, add a touch of orchestration, a sarod, Indian flutes. . .
Helter Skelter---As is widely known, fans have been clamoring to hear the nearly legendary 27-minute version of this song. Well, I differ somewhat with fans here. I'd be curious to hear 27 minutes of The Beatles raucously deafening themselves in the studio, but I don't think I'd want to hear it often. Cut it to seven or eight---or even ten---minutes. Give this blockbuster its due. At least partly. (Make the full version a bonus track.)
All Things Must Pass---There is the lovely, moving solo studio demo that George performed during the "Get Back" sessions, backing himself on electric guitar (released on "Anthology") that would serve perfectly well here. Sound quality: excellent. But. . .The Beatles made more than a few passes at arranging and recording the whole track, including harmony vocals. Judging from the bootlegged versions, I'm betting that with technology and intelligent editing from these run-throughs and George's demo, a Beatles version of the song just might be within reach. Failing that, turn the Martins loose.
Not Guilty---Yes, there is an edit of the Harrison song (with fellow Beatles and Clapton) omitted from the "white album" version on "Anthology," which is perfectly spiffy. But there are superior versions on bootleg. And can't something be done to improve the sound quality of George's vocal?
Revolution 1-A---Remix, add the horns and guitars from the "white album" version, plus extra tape loops initially omitted (see above), and you have one grand Beatles recording---the hood ornament for this vehicle.
India, India---A first-rate Lennon ballad, written during the "white album" period, recorded by John at home at the Dakota in the late '70's, with acoustic guitar. Excellent sound quality. (Why didn't Yoko give this one to the "Threetles" for a reunion track!) Add George Martin orchestration, Paul's bass, Ringo percussion, touches of Indian instruments, (or combinations thereof) and it's a classic.
Savoy Truffle---Harrison has commented in retrospect that the (terrific) saxophones on this song obscure the brilliant job being done by the group. Release it, band-only.
Good Night---Lewisohn reports that the first session for this song featured Ringo, accompanied on acoustic guitar by John, with Ringo speaking several little preambles, one of which went like this: "Come on children! It's time to toddle off to bed. We've had a lovely day at the park and now it's time for sleep." What a must for release one of these takes is.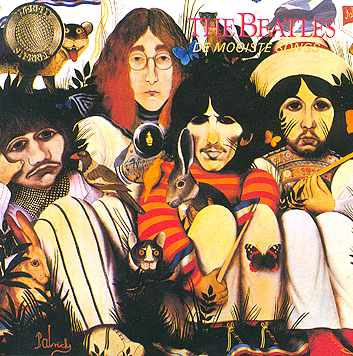 The wonderful Patrick cover rejected for the "white album."
There are other possibilities for such an album, including Lennon's solo acoustic ditty, "Everyone Hard a Hard Year," and the highly publicized goof-session of noises, screams, nonsense supervised by McCartney in '67, "Carnival of Light" (bonus track!) Another prospect: take the acoustic version of "I'm Only Sleeping" from "Anthology," and marry it to a loop made of the vibes backing track for the song devised by Martin, to create an entirely new version. Would it work? It does. An acquaintance has done this in a home studio, and it is spectacular.
It should be clear by now that with an open-minded, creative approach, and a priority of restoration, there is a very fine Beatles album (or more) that could yet be made from existing unreleased recordings. There is just no way around this conclusion. Whether Apple and its four voters have the vision and, yes, love, to invest in such a project is, as Hamlet said, "a consummation devoutly to be wished." And in the end, it would be nothing short of. . .
Revolutionary.
* Music critic Richard Ginell agrees concerning the quality of "Revolution # 9," pronouncing it the equal or better of any recognized musique concrete composer in "Third Ear: The Essential Listening Companion; Classical Music" (Backbeat Books, 2002).