WE DON'T NEED NO STINKIN' BADGES!

"Whaddya mean, I need another press pass?" Haas displays more than ample credentials in the Daily News city room, circa 1950.
(photo courtesy UCLA special collections.)

LUCIAN "LU" HAAS was a liberal and strong leader in the Los Angeles Newspaper guild, serving as shop steward for the Daily News. He fought on behalf of reporters Vern Partlow and Darr Smith, targets of "red-baiting" of the era, and worked as a copyboy, reporter, and photo editor at The News. He covered many a major story, including the famed Kathy Fiscus episode in San Marino, and went on to a distinguished career as a political advisor to Tom Bradley and many prominent California Democrats. Lu's is one of two enduring Daily News marriages. He met wife Janet when she worked as a Daily News artist, and they remain very much an item today. He was interviewed by Rip Rense.
RENSE: How liberal a newspaper was it?

HAAS: It was a fake liberal paper, put it that way. It was a Democratic Party paper type of thing. Manchester Boddy was the originator of the DN, and he was a sort of. . .somebody who was sort of in love with the newspaper business, and in love with politics, and wanted to be governor of California and so-on. And meanwhile he was publisher of the paper! It was his paper. After that, a guy named Bob Smith took over the paper.
RENSE: What do you mean, "fake liberal?" It was certainly liberal compared to the other newspapers in town.
HAAS: It was liberal. You would have to say it was liberal for those days. It was Democratic. It was a very strong Democratic paper. For me, you're talking to somebody who is a socialist! Although there is no socialist party. I'm still at heart a left-wing socialist. I never joined the Communist Party, and I didn't joing the socialist party till many years later. No question about it---it was the only Democratic voice in town. Well, there were some satellite papers out there. Generally speaking, the liberals gravitated to our paper. They tried to get a job there. I don't think you can get any more different than the DN was.
RENSE: What was it like to be a reporter at the Daily News?
HAAS: Exciting! It was always exciting because we tried to be exciting---the paper did, itself. You went for the exciting side of the news. You didn't go for the dismal part of the news. A good murder, the Black Dahlia---that was the kind of a story we wanted to get our teeth into. But then everybody was putting their teeth into that story.
RENSE: As sensational as the Herald-Express?
HAAS: Well, in a different way, yes. Remember that we always had that political bias, which was liberal democratic political bias. So a lot of the stories were tinged with that background. Most of us were ultra liberals, at the very least good strong, Democrats. Well, there is one interesting aspect I'll throw at you, and it's covered in my book, by the way, (I was) shop steward for L.A. Newspaper Guild. That was me. I was red-baited out of the office that I held in the union. I was the director for the L.A. Newspaper Guild. Now that was a vital part of my life that wasn't a vital part of the DN, except in an indirect way.
RENSE: There were two reporters stigmatized by red-baiting: Vern Partlow---

HAAS: Right. My best friend.
RENSE: And Darr Smith.
HAAS: Darr Smith, right. Those were the two guys. One of the guys, got fired. Darr Smith. We didn't allow the firing of Vern Partlow. We fought that. He managed to get changed from reporting to being the editor of the women's page, for Christ's sake! Well, this was the red-baiting that was going on. We had this period of red-baiting that included a lot more than just the DN. It permeated through the labor movement, and that's basically where I got hit, because I was head of the DN American Newspaper Guild.

RENSE: And you lost your union job?

HAAS: I was red-baited out of my job with the union. I was displaced by right-wing people in the union. I was the piecard in the union. The piecard was the guy who ran the union and he would hand out to the guys who were unemployed, looking for jobs, who were members of the union, he would hand out a pie card, which meant you could go across the street to get a cup of coffee and a piece of pie. This was just an old union idea that we all used to say. An old-fashioned AFL-CIO thing, to hand out pie cards.

RENSE: The Daily News had the best columnists in town, from what I gather---
HAAS: Well, the political columnist was a guy named Leslie Claypool.
RENSE: And there was Matt Weinstock, the sort of Herb Caen of Los Angeles. . .
HAAS: He was a gossip columnist, funny-guy columnist. He was the voice of the interesting people in Los Angeles, the Hollywood crowd, the union crowd, the liberal crowd, the right-wing crowd. He was the gossip columnist---that's not really the way to describe him. He was a serious newspaper guy. He was giving the entertaining side of Los Angeles. God knows there was a lot of entertainment going on. He was a Herb Caen. Oh, he was probably the first thing people read in the paper. You know, this city, Los Angeles, has been such an anomaly in terms of a normal city that there is no way to characterize it. Now, Matt Weinstock and the columnists tried to characterize it.
RENSE: Was he the most popular columnist in the city?
HAAS: Hard to say, because we were probably third or fourth in circulation.
RENSE: What about Ned Cronin, the sports editor and columnist?
HAAS: Well, he was a famous guy. He was also a right-winger. He wasn't part of our left-wing crowd. The sports department was considered fascist. Of course, they were just doing what everybody does in sports---having a good time. Covering sports has never been anything but fun.
"We were having the time of our lives, and we participated in the whole business of what was going on in the city, Hollywood, everything else. We were loving this city, because of the excitement of living here and working on a newspaper here, and we were the minority newspaper, and by God, we were going to fight for our lives!"
RENSE: I hear that the library was the "bar," and drinks were a quarter.
HAAS: Well, you just went in there to get a drink. I don't know of a single person who was drunk all the time.
RENSE: So you'd get a shot of whiskey and go back to work.
HAAS: Right. And they worked it off very quickly, working for the Daily News. You were punching that goddamn typewriter forever! I mean, you'd barely get out to take a pee!
RENSE: A great many women worked for the paper?
HAAS: Absolutely. Sara Boynoff---she was very good. And we had Carol Phinney there. See, the women took over when the guys went off to war.

RENSE: Do you remember the fire-engine-red Studebaker Commander "Daily News radio-phone car?"

HAAS: That's right. Red. Red cars. I can remember being in that car the day I went out to Norwalk and knocked on the door of this lady's house, and I looked at her and I realized that she didn't know that her child had been murdered. And I had to break the news. I was in that radio car. And I dictated the story. I remember that. God.
RENSE: You had been sent to Norwalk to get a statement?

HAAS: Right. I figured she knew by now. She didn't know. And oh, that was a devastating experience. And I stood there, just appalled at what I had done. And there is no way to be careful about breaking the news. When you're a reporter, that's what you do. You break the news to people. It's a very, very painful part of being a reporter.
RENSE: How were you able to go back and write the story?

HAAS: Well, I was part of the story.
RENSE: You mean, it became "The Daily News had to break the news of a child's death to her mother in Norwalk. . ." kind of thing?

HAAS: Yeah. That's the way I wrote it. It had pathos. It had the whole schmeer of what people were writing and reporting in newspapers in those days. It was often times brutal. Very brutal.
RENSE: Now they would just show the mother weeping on TV.
HAAS: Yeah, there it is. And you don't need that many words to go with it. And that's why the newspaper business changed in this town. Because TV took over.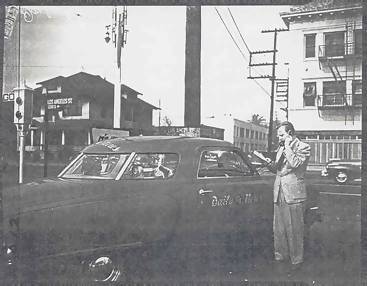 The lone Daily News "Radiophone car," a fire-engine red Studebaker Commander, that was most often used by reporters who wanted to keep in touch with the city desk while on dinner breaks. The DN building, repainted a peach color to match the front page in the late '40s, is on the right.
(photo courtesy UCLA special collections.)
RENSE: Tell me a bit about some of your old colleagues. Did you know Jack Smith?

HAAS: Oh, sure. He was our number one rewrite man!
RENSE: What kind of a guy was he to work with?
HAAS: Very funny! He was a wild guy, but everybody was wild up there. I mean, we didn't have any "straights." No plain old-fashioned straight writers. They were always looking for an angle and trying to write stuff that was interesting to read. That was the object. Just write an interesting story. To hell with the news! Stories about people at the Daily News were rampant. Those crazy people at the Daily News! We were acting up, probably, a little bit more than we should have in the sense of being responsible reporters, photographers, and so on. We were having the time of our lives, and we participated in the whole business of what was going on in the city, Hollywood, everything else. We were loving this city, because of the excitement of living here and working on a newspaper here, and we were the minority newspaper, and by God, we were going to fight for our lives!

RENSE: Jack Jones?

HAAS: Another one of our good rewrite guys. One of my contemporaries. Part of the younger crowd. We had two kinds of people there: people who had been in WWII and maybe worked through that period, and the ones that came back from the war.

RENSE: Phil Garrison?

HAAS: Oh, yeah. He was a nice guy. Very good guy. Very straight guy. Very much the straight newspaperman. He was very respected, and we liked him a lot.

RENSE: Yet you were on opposite sides during the attempt to fire Partlow and Smith?

HAAS: Oh, yes, we fought for those guys.

RENSE: Did you know the end of the paper was coming?

HAAS: No. We showed up on Saturday morning, and it was locked. They let us in to take out our personal belongings, and that was it. It was a total bomb. And then we didn't get any severence pay. The Newspaper Guild had severence pay. We didn't get it when we got fired. They folded up the place, took the money and walked away.
RENSE: So what did the staffers do? There had been such tremendous comaraderie---

HAAS: We were out scrambling around. We didn't get any severance pay. We didn't get unemployment. All we were doing was looking for another job. I was lucky I found another job, but because I'd been red-baited out of the whole operation, I could never go to work for the Los Angeles Times or the Examiner or the Herald-Express. They would never have hired me, as a "radical." There was no question about me going around to find a job. I couldn't find a job.
RENSE: Why did the paper go under?
HAAS: Well, who knows. I think it was just what was happening in the world. Newspapers were proliferating, and then TV came on, and newspapers became secondary to what you really got your news from.
RENSE: Did the city give a damn that the Daily News was gone?

HAAS: No. It's the "life goes on" department.

RENSE: Wasn't there any sense of loss among the readership?

HAAS: Oh, well, we lost the Daily News, and it was really felt by one hell of a lot of people who considered themselves liberal!
RENSE: Do you miss the Daily News?
HAAS: Well, I'm not sentimental about anything. I look back on my political life with a great deal of satisfaction. I loved it. I loved being in politics. I loved being on the newspaper.
BACK TO PAGE 1

ADDENDUM: Lu Haas passed away April 28, 2004 at age 86.
Following is his obituary from the L.A. Times.
April 30, 2004
OBITUARIES
Lucien C. Haas, 86; Newsman Became Aide, Speechwriter for Key Democrats

By Claudia Luther, Times Staff Writer

Lucien C. Haas, an influential aide and speechwriter to Democratic politicians for more than 20 years, died in his sleep Tuesday at his home in Pacific Palisades. He was 86.

Haas was a spokesman for Sen. Alan Cranston (D-Calif.) for 13 years, an associate press secretary to Gov. Pat Brown and a speechwriter for his son, Gov. Jerry Brown. Haas was also an early advisor to then-Los Angeles Councilman Tom Bradley, helping him develop his winning 1973 campaign strategy against incumbent Mayor Sam Yorty.

Haas also served on then-state Atty. Gen. John K. Van de Kamp's Commission on the Prevention of Drug and Alcohol Abuse.

And in 1964, Haas took a leave of absence from Gov. Pat Brown's staff to be public relations director for a measure to amend the state's Constitution to remove anti-discriminatory housing laws.

"He was on the scene in every kind of Democratic activity," said Richard Maullin, a pollster who was Gov. Jerry Brown's first state Energy Commission chairman.

"His real concern was for the civic quality of life in Los Angeles. He was an idealist about L.A., viewing it as a unique place with many redeeming qualities, when others were running it down."

Haas was an early and committed environmentalist who was involved in issues ranging from offshore oil drilling to saving the blue butterfly.

"He was a passionate person," said Tom Quinn, a onetime Democratic political strategist who owns City News Service, a Los Angeles news wire. "When Lu stated his positions, he did it loudly and he did it consistently and with lots of punctuation."

Haas was born in Buffalo, N.Y., on July 15, 1917, the son of German immigrants. He was drafted into the Army during World War II, serving in France in intelligence.

After the war, he went to work for the Los Angeles Daily News as a copy boy. He became a reporter and worked on the rewrite desk, and was a leader in the Los Angeles Newspaper Guild, defending colleagues accused of disloyalty during the virulently anti-communist McCarthy era.

When the paper ceased publication in 1954, Haas took a job in public relations for a beet sugar group in Denver before returning to California, where he began his association with Gov. Pat Brown.

When Brown was defeated by Ronald Reagan in 1967, Haas became press secretary to Cranston.

In 1981, Haas joined Gov. Jerry Brown's staff. When Brown ran for the U.S. Senate in 1982, Haas wrote most of his speeches calling for a bilateral nuclear arms freeze.

Known for his colorful writing, he once compared the growing public clamor for an end to the arms race to the eruption of Washington state's Mt. St. Helens in 1980.

"One day the rumbling began," he wrote, "and shortly thereafter a volcanic blast startled the world. Today, suddenly, in overwhelming numbers, people are crying out to stop the madness that has transfixed the Soviet Union and the United States."

After his retirement in 1984, Haas was active in many peace and environmental causes. Paul Weeks, a friend who worked with him at the Daily News, said Haas often led nature walks, "identifying every flower anyone stepped on or stooped to smell."

He is survived by his wife, Jan; daughter Maxx Haas of Santa Monica; sons Lu of Missoula, Mont.; Dirk of Truckee, Calif.; Vernon of Santa Monica; and Jack of Malibu; and five grandchildren.

Services are pending. Contributions may be made in Haas' name to peace or environmental groups.