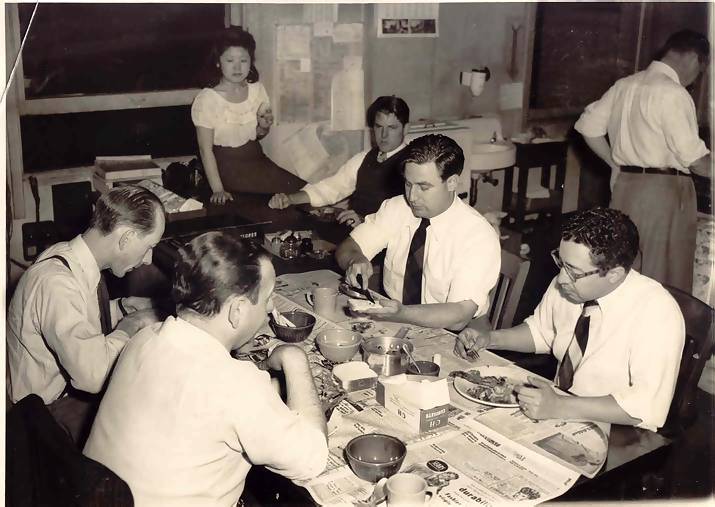 WEEKS BUTTERS UP STAFF: DN reporter Paul Weeks (center, black tie), butters toast while presiding over weekly steak-fry up held in the city room. Librarian Mary Kitano,
hired directly from the Manzanar Relocation Camp, observes.
L to R: rewrite man John Clark, city editor Aaron Dudley (foreground), Kitano, Archie Lee, Weeks, night city editor Joseph "Sparky" Saldana. (Collection of Paul Weeks.)
Click pic for larger view.
__________________________________________________________________

JONES RECALLS EARLY COPYBOY DUTIES. . .
(continued from page 1)
have the early rewrite guys paraphrase them for our first edition of the day. (This was re- ferred to by another assistant city editor, Jack Kennett, as "rew the ops" o ''rewrite the opposition.")
On the more sensitive stories, our re- write guys would frequently have to tele- phone some city councilman or prominent public figure at home and wake him up with a question like "is it true you put a trip to Acapulco with your secretary on your expense account?" (I made that up.
I don't actually remember hearing such a question.)
By 5 a.m., Clarke would march in with a grim look on his face (which I assumed denoted a dreadful hangover) and pour his first cup of powerful coffee. A couple of other rewrite people would fill the desks along the front row facing the city desk and Assistant City Editor Aaron Dudley would stroll in happily after driving all the way from his small horse ranch in Chino. His necktie would still be hanging from his shirt collar, waiting to be tied later.
The sun would be turning the sky orange over the industrial district and grad- ually other members of the staff, including the first couple of copyreaders on the copy rim (plus the slot man with his green eye- shade and big scissors) would take their places.
The city editor (Chuck Chapell) would arrive fairly early and take command of the city desk in his somewhat gruff-but- gentlemanly manner. Managing Editor Phil Garrison (a pleasant guy) and Editor Lee Payne (who could be very gruff) and their secretaries also arrived--I think about 9 a.m.; maybe earlier.
A lot of the copy, of course, had been set the day or night before (time copy, columns, features, etc.) so the first edition was just a matter of cranking in up-to-the-hour wire copy and local stories lifted from "the ops." Some stories were picked up from the police beat (including one about a suicide on which the overnight police reporter's memo said, "He left a note, but it was ineligible.")
The DN was supposedly a 24-hour newspaper in those days (this was 1949), which meant that as the day went along, dayside reporters would be assigned to breaking stories and many of the initial first edition versions were given "nu ledes."
It wasn't long before the place was jangling with telephones and reporters were yelling "Boy!" to have their copy carried to the city desk in-box. The rewrite bank by this time included Sara Boynoff, who banged out her stories with a cigarette dangling from her mouth and an expression that indicated she did not suffer fools in any way--gladly or otherwise.
Other copy boys also came to work, running errands, refilling cruddy paste pots (which were actually old coffee cups) and going down to the press room level on the ground floor to cut up leftovers from the newsprint rolls into copypaper size. With this and old sheets of carbon paper we put together "books" so reporters and rewrite people could turn out their stories with the necessary carbon copies for the file and for UP, whose offices were just down the hall.
MR. JONES PASSED AWAY MAY 12 AT 86. SEE HIS Q&A for more reminiscences, obituary.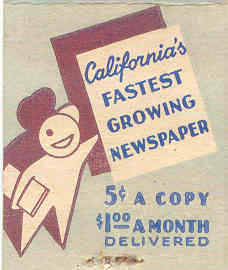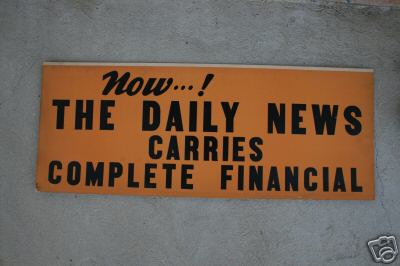 EX-'NEWSIE' WEEKS TOURS OLD CITY ROOM
(continued from page 1)
Getting up to the third floor was like trying to get up Bunker Hill without Angels Flight. The elevator, unfaithful as it always was, had disappeared. It was the elevator that carried a sign saying it was good for umpty-ump thousand successful trips. Someone in our party remembered that a jokester had once scribbled a series of 1111's on it, with a (/) slash through each to make it five. It didn't score through the first umpty.
Were the ghosts parading - the string of city editors: Frank Rogers, Jim Felton, Milt Phinney, Jerry Luboviski, Chuck Chappell, Aaron Dudley -- in my eight years alone?
Where John Clark once sat on rewrite, a seamstress -- like Madame de Farge -- was stitching a chronicle of the misdeeds of today where John once stitched the misdemeanors of the likes of Senator Joseph McCarthy and the House UnAmerican Activities Committee.
Another, unperturbed as the magnificent Jack Smith, sewed smooth seams as even as his copy at the spot in the middle of rewrite. I inherited his desk, but not his shoes, when Jack moved on to pastures with more greenbacks.
Was the sewing of the steady, serious lady matching the brilliance of Sarah Boynoff? And look over there - the window where Jan Haas got her light for her photo retouching - wasn't that next to the one where Don Dwiggins threatened to throw his typewriter to the pavement below?
That was also the row where anyone who prepared the day's national weather map also had to include - was it Jamestown or Valley City, North Dakota? - as photog Don Hoster's patriotic tribute to his old hometown.
None of us came back striding like MacArthur ("I shall return!") - Jack Jones for one. Back at Genio's both Goldie Norton and Don Alpert had claimed to have been Jack's replacement when he moved up from copy boy to reporter. Jack, did it take two of them? All three of them went on to successful careers.
Helen Brush (now Jenkins) had her cameras with her, but she doesn't tote a clumsy Speed Graphic along today as she did when she popped flashbulbs in the face of Madam Brenda Allen, who operated her Hillside House of Joy (Jack Smith's label).
Roy and Vivian Ringer completed our Last Roundup, with spurs still jingling.
Aaron Dudley and John Beckler's absence was particularly painful. Both had left us within the past year. Sweet Dud, always gentle and cool on the city desk. Beckler, a model for every seeker of an ethical career in journalism . . .John moved to The Times, then to the AP's staff in the nation's capital, when he got bored rewriting handouts at the LAT.
Matt Weinstock - now there's a man who symbolized everything that was good about the Daily News, his columns insightful, piquant, funny and down to man-on-the-street delight. We ought to elect him posthumously to OFS membership.
The seamstresses today seemed to have no Ortega y Gossett editorial policy like the old Daily News. Publisher Manchester Boddy's liberality was jolted occasionally, as when he challenged Helen Douglas for the Democratic Senatorial nomination, surprisingly tinting her campaign with red - and Richard Nixon won the seat.
("Boddy's a guy who leads liberals up dark alleys and stabs them," Verne Partlow used to say. Partlow, who composed our anthem, "A Newspaperman Meets Such Interesting People," as well as "The Atom Bomb Song" in the midst of the Senator McCarthy rantings. He didn't get to go down with the ship with us. He was fired, but not for his music or his capable reporting. They put a "red" label on him, too.)
Les Claypool walked the tight rope of political reporting with straight, no-nonsense copy. He would have been on Nixon's hit list along with our Ed Guthman and Dick Bergholz.
It is frustrating not to have the space - nor your patience, I appreciate - to call the role from the likes of Pearl the Mail Girl, rotund photog Cliff Wesselman, Gordon Macker, on and on.
Mr. Boddy, you had the liveliest crew that ever tramped the grapes of your vineyards. Even if we got no severance pay, we got much more than stained feet.
No wine was ever so intoxicating.
MR. WEEKS PASSED AWAY JULY 10, 2007 AT 86. SEE
HIS Q&A for more reminiscences, and obituary.